This creamy textured white cheddar bacon macaroni and cheese recipe is surely going to give your tastebuds a burst of flavors!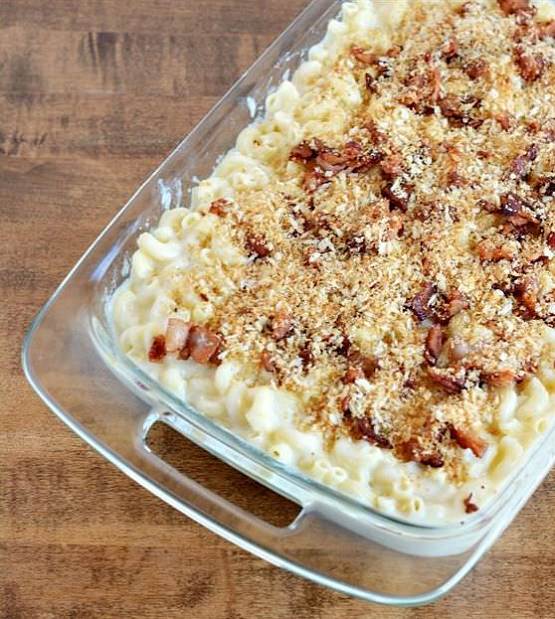 This White Cheddar Bacon Macaroni and Cheese Recipe is going to give your taste buds a slight change with its amazing taste. This recipe is quick to prepare and is going to be boon for all the taste lovers. The shredded mozzarella and white cheddar cheese make this recipe really delicious.
Prep Time: 15 mins
Cook Time: 20 mins
Total Time: 35 mins
Ingredients
5 tablespoons butter
½ cup flour
2 cups whole milk
1 cup water
pinch of salt
1 pound elbow macaroni, cooked and strained
2 cups white cheddar cheese, shredded
1 cup mozzarella cheese, shredded
Topping
½ pound of bacon
1 cup Panko
Preparation Instructions
Preheat the oven at 400° F temperature.
Place a foil on the baking sheet and keep the bacon on it.
Bake it in the oven for 20-22 minutes until it becomes crispy.
Take it out from the oven and place it on the paper towel to let excess grease soak.
After cooling it, chop the bacon and keep it aside.
Prepare the pasta as per the directions written on the packet and boil for 8 minutes around.
Filter out excess water from the pasta.
Now, take a large-sized pan and add butter and flour into this and heat it for 2 minutes at medium flame.
Pour the milk in this mixture and stir continuously.
Heat it until it becomes thick enough as per the consistency.
After removing from the heat, add some shredded cheese and sour cream into this mixture and stir to mix up everything.
Add the Marconi and bacon into this pan and sprinkle some salt and pepper.
Serve it sizzling after topping it with chopped green onions!