Chicken Spaghetti is cheesy, creamy, easy to prepare and serves as great comfort food for pasta lovers!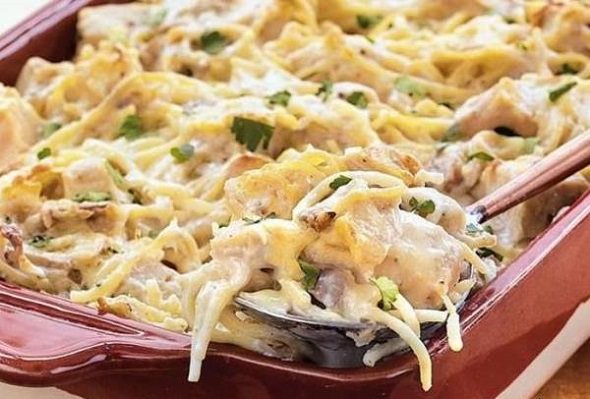 If you're a pasta lover, then you're definitely going to like the Chicken Spaghetti. This recipe is cheesy, creamy, flavorful and incredibly delicious. It's filled with soft pasta, tender chicken and lots of yummy cheese.
In this recipe, we have used taco seasoning instead of the regular one, to enhance its taste and add a unique Mexican flavor!
Cooking Note:  To save time, go to your nearby grocery store and get a pre-cooked chicken or a pre-grilled chicken! Also if there are any leftovers, you can freeze it and bake it again!
Servings: 6-8 servings
Preparation Time: 25 minutes
Cooking Time: 25 minutes
Total Time: 50 minutes
Ingredients:
2 cups diced, cooked chicken
8 oz angel hair pasta (1/2 box)
2 (10 oz) can cream of chicken soup, undiluted
1 cup of salsa
1 cup (8 oz.) sour cream
2 cups Mexican cheese blend, divided use
1 tbsp taco seasoning
Dried parsley, for topping (optional)
Preparation Instructions
Preheat the oven to 350 °F/ 176°C.
Take a casserole dish and spray it with nonstick cooking oil. Leave it aside for some time until the oven is preheating.
Prepare angel hair pasta according to the directions given on the package.
Once pasta is ready, drain it well to remove excess water.
Now take a large bowl and place the pasta in it.
Add chopped chicken, fresh cream, Mexican cheese blend, taco seasoning, dried and sour cream in pasta, stir and mix it well.
Now pour the mixture in our prepared dish, top with shredded cheese and season it with parsley.
Cover the casserole dish with aluminum foil and let it cook for around 25 minutes.
Your creamy and cheesy chicken spaghetti is ready!