We bet you won't be able to stop eating this recipe with the amazing combination of Romano Chicken with Lemon Garlic Pasta once you taste it!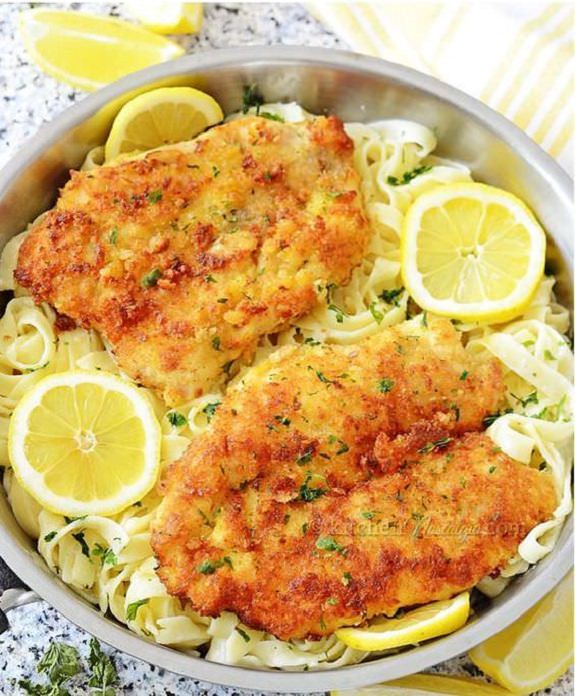 The salty and spicy textured Romano Chicken with Lemon Garlic Pasta is going to offer your tastebud a tangy flavor. Here, the chicken cutlets are heavily dipped in parmesan, panko, and beaten egg that makes them more flavorful. The garlic pasta is quickly fried with minced garlic, butter, and lemon juice and whipped up to give it a creamy texture.
Ingredients
Romano Chicken:
1/2 lb chicken breasts, butterflied or thinly cut into cutlets
Salt and pepper
1/2 cup grated parmesan cheese
One large egg
Dried parsley
Half cup of panko bread crumbs
Oil for frying – olive oil or sunflower oil
Lemon Garlic Pasta:
1/2 lb linguine or spaghetti or other pasta
Juice from 1 lemon
3 cloves garlic, minced
zest from 1/4 lemon
2 Tbsp butter, cold
2-3 Tbsp whipping cream, or to taste
salt, pepper
Preparation Instructions
Chicken Romano
Take parmesan cheese, beaten egg, and panko bread crumbs in separate dishes.
Dip the chicken cutlets in every ingredient one by one, to coat it with their layers.
Sprinkle some salt and pepper over the cutlets.
Take a large-sized pan, and pour some olive oil in it.
Deep fry these cutlets into this pan and cook it at low flame until it turns brown.
Lemon Garlic Pasta
Prepare the pasta as described in the package instruction but save some pasta water from it.
Heat the pan, and put lemon juice, garlic, lemon zest into it one by one.
Sprinkle a tasteful salt and pepper over it and cook it until the puree becomes thicker.
Add two tablespoons of butter and stir it.
Now, pour the leftover pasta water into the pan and whip it up.
Now, add pasta with chicken romano and serve it after garnishing it with chopped green onions and parsley.