If you're a passionate brownie lover, then you should definitely try the Lunch Lady recipe! Filled with chocolate, these brownies are delicious, fudgy and literally melts in your mouth.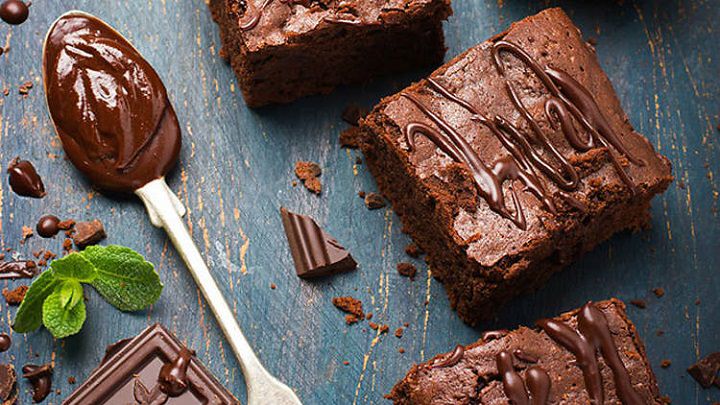 Overloaded with chocolate, the Lady Lunch brownies are fudgy, moist, sweet and utterly delicious! They're remarkably perfect as a sweet dessert cuisine and always ready to lighten up your mood! The recipe is made with just eggs, cocoa powder, butter, vanilla extract and milk, Lunch Lady Brownies are super easy to prepare and a fantastic surprise to your kids.
Servings: 12 large brownies or 24 small brownies
Preparation Time: 15 min
Cooking Time: 30 min
Total Time: 45 min
Ingredients
For the cake:
1 cup butter, melted
1/2 cup unsweetened cocoa powder
2 cups all-purpose flour
2 cups granulated sugar
4 large eggs
4 teaspoons vanilla extract
For the chocolate frosting
1/4 cup butter, softened
1/4 cup milk ( I use 2%)
1/4 cup unsweetened cocoa powder
3 cups powdered sugar
Preparation Instructions
How to prepare the cake?
Preheat the oven to 350° F/ 176.66° C.
Take a baking dish, cover it with foil and spray it with non-stick oil. Keep it aside.
Now, pick up a bowl, add unsweetened cocoa powder and melted butter.
Mix both with the help of mixer until it blends perfectly and becomes smooth. Now add sugar, flour, eggs and vanilla extract and mix it well. Your cake batter is ready!
Pour the cake batter in the baking dish and smoothly even the surface with the help of a knife.
Bake the cake batter for 25-30 minutes. Once ready, take it out from the oven and let it cool down for 10 minutes.
In the meantime prepare the cake frosting.
How to prepare the frosting or icing of the cake?
Take a medium-size bowl and add softened butter, milk, cocoa powder, and sugar. Mix and beat the ingredients together until it becomes smooth and attains a chocolate color.
Once the frosting ready, carefully spread it over the cake and let it cool down. After this cut the cake in as many sections you like.
Your tasty chocolate lunch lady brownies are ready!