This Healthy Creamy Cucumber Salad Recipe is a healthy and delicious option to be tried by every calorie-conscious person!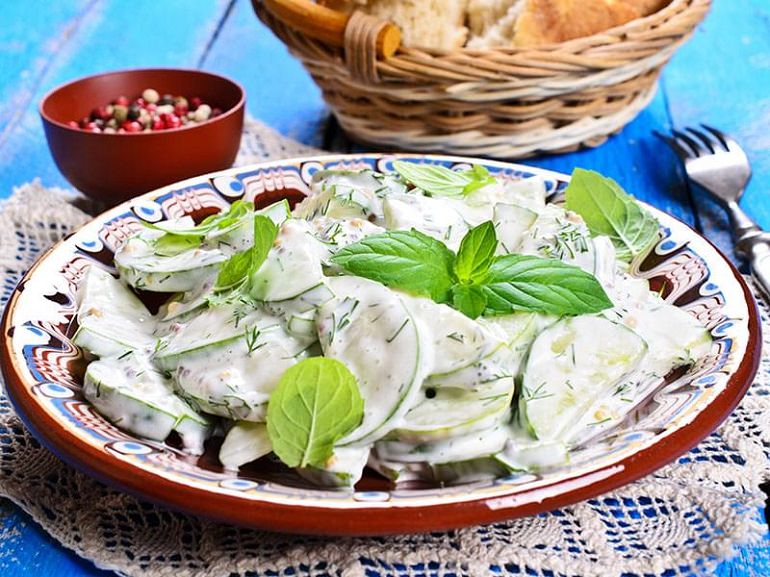 This crunchy and healthy salad coated with a creamy sauce is a perfect recipe for all the calorie conscious-people. You can prepare this salad with fresh garden-grown cucumbers and some staple ingredients of your kitchen.
What makes this salad recipe extraordinary is the blending of sour cream, lemon juice, garlic cloves, dill, salt, and pepper in the mixture that offer it a punch of flavors!
Prep time: 10 mins
Total time: 10 mins
Skill Level: Easy
Serving: 4-6
Ingredients
1 1/2 lbs cucumbers (2 English cucumbers or 7-10 small ones)
1/2 medium purple or yellow onion, thinly sliced
1 Tbsp fresh or frozen dill, chopped
3/4 cup sour cream
1/2 Tbsp fresh lemon juice (from 1/2 small lemon)
1 large or 2 small garlic cloves, pressed
1/2 tsp sea salt and pinch black pepper
Preparation Instructions
Take a small bowl, put sour cream, lemon juice, garlic cloves, dill, salt, and pepper in it and mix everything properly.
Cut the slices of cucumbers in thin round shapes and keep them in a mixing bowl.
Add thinly sliced onions to this bowl.
Now, add the sauce into this cucumber onion mixture and coat all the slices with this sauce.
Serve it fresh within 2-3 hours!
Note: You can add creamy sour cream to this salad just before serving.