Filled with chocolate, caramel, and pie crust cookie, this Insanely Delicious Pecan Pie Cookies are delicious, flavorful and make up for a perfect quick bite dessert.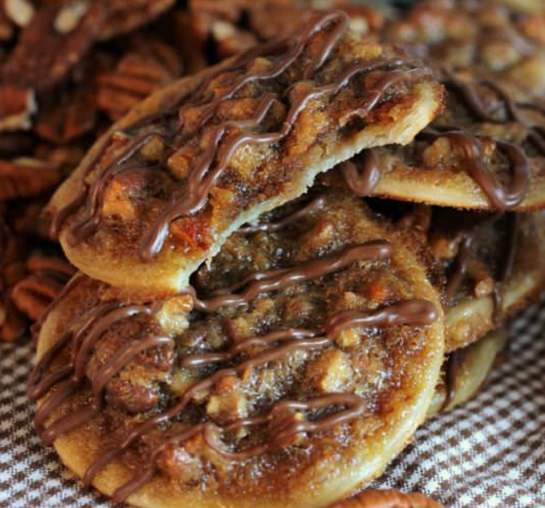 Prepare the delightful pecan pie cookies! They're deliciously sweet, filled with nutty caramel and make up for an ideal quick bite. It gets ready in just 25 minutes and can be a good surprise for your kids!
Serves: 10-12 cookies
Prep Time: 15 mins
Cooking Time: 10 mins
Total Time: 25 mins
Ingredients
1 prepared single pie crust (homemade or purchased, I used Pillsbury)
2 tablespoons butter, melted
½ cup pecans, chopped
⅓ cup packed brown sugar
¼ cup of corn syrup
2 eggs
⅛ teaspoon salt
Optional
¼ cup semi-sweet or milk chocolate chip for decorating
Preparation Instructions
Preheat the oven to 400°F.
Now take a bowl and add butter, brown sugar, corn syrup, salt, eggs, and pecans in it. Stir it on low heat until the mixture thickens. Remove the heat and set it aside.
Prepare dough and cut cookies from it. Gently put pecan mixture in each cookie.
Take a baking dish, lay a parchment paper on it and bake it for 8 minutes.
Once baked, remove it from the oven and place it on a cooling rack.
Your delicious pecan pie cookies are ready!