Learn to prepare German Chocolate Pecan Pie Bars, they're delicious, flavorful, and filled with coconut, pecans and rich chocolate. Read on to know the recipe!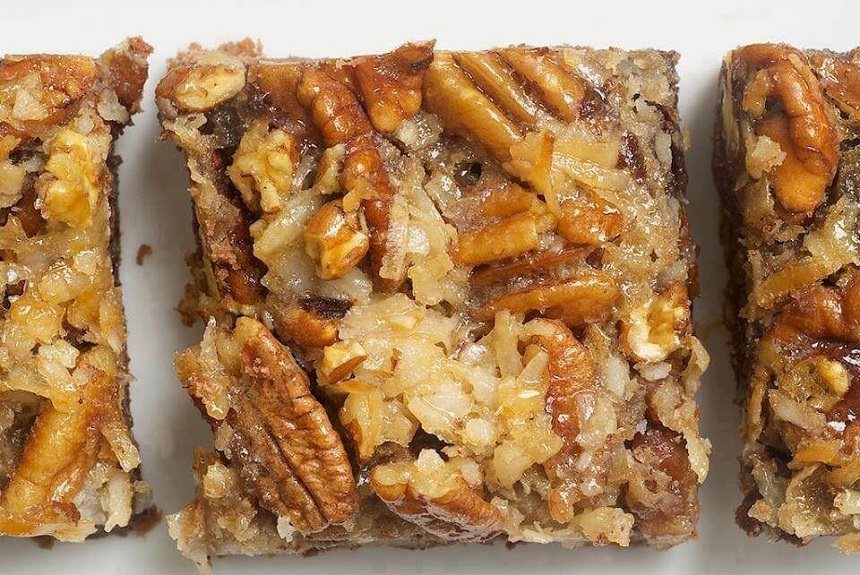 Filled with chocolate, coconut, and pecans, the German Chocolate Pecan Pie Bars are delicious, flavorful and offer a great dessert experience. It is easy to prepare, gooey when goes in the mouth and make up perfect for an ideal dessert. You can also prepare it to surprise your kids!
Yield: 24 2-Inch Bars
Prep Time: 25 Minutes
Cook Time: 59 Minutes
Ingredients
3 cups pecan halves
1 & 3/4 cups all-purpose flour
3/4 cup confectioners' sugar
3/4 cup cold butter, cubed
1/4 cup unsweetened cocoa powder
1 & 1/2 cups semisweet chocolate chips
3 large eggs
3/4 cup firmly packed light brown sugar
3/4 cup light corn syrup
1/4 cup unsalted butter, melted
1 cup sweetened flaked coconut
Preparation Instructions
Preheat the oven to 350°F.
Lightly toast the pecans by baking it for 8-10 minutes.
Now take a baking pan, line the bottom with parchment paper and spray non-stick cooking oil. Leave it aside.
In another bowl, add flour, sugar, cocoa and cold butter. Mix it properly with the help of a blender.
Bake the crust for 15 minutes, take it out from the oven and sprinkle chocolate chips on it. Allow it cool on a wire rack for around 30 minutes.
In another bowl add eggs, brown sugar, corn syrup, and melted butter and mix the combination well. Now pour it in the baked crust.
Bake it again 25-30 minutes, until the edges turn golden and filling is set.
Your German Chocolate Pecan Pie bars are ready, just divide in bars and refrigerate for an hour!