Chocolate Peanut Butter Bundt Cake is a perfect blend of chocolate and peanut butter. It's delicious, fudgy and dense cake ideal for a dessert! Read on to learn the recipe.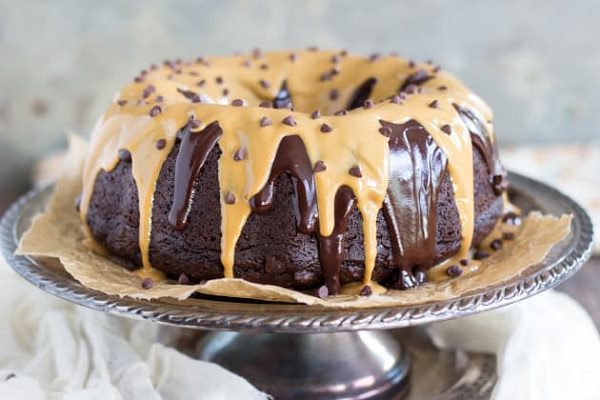 Filled with chocolate and peanut butter, this bundt cake is utterly delicious and perfect for a family gathering. It's moderately easy to prepare as you have to prepare three things: cake, peanut butter filling, and glaze. You can use both types of glaze, chocolate glaze or peanut butter glaze.
Ingredients
Cake
1 standard size chocolate cake mix
1 package (3.9 oz. – 4 Serving Size) chocolate pudding – DRY MIX
1 cup sour cream
1 cup vegetable oil
4 eggs
1/2 cup warm water
1/2 cup peanut butter chips (optional)
Peanut Butter Filling
1 cup creamy peanut butter
1/3 cup powdered sugar
4 tablespoons butter, melted
1 teaspoon vanilla extract
1/8 teaspoon salt
Glaze (you can make chocolate, peanut butter or both)
For Chocolate Glaze
2/3 cup chopped chocolate (semi-sweet or milk chocolate work well)
1/3 cup heavy cream
For Peanut Butter Glaze
2/3 cup peanut butter chips
1/3 cup heavy cream
Preparation Instructions
How to prepare the cake?
Preheat the oven to 350°F and prepare a baking dish by laying parchment paper on the bottom and spray non-stick cooking oil.
Take a medium-size bowl and add all the cake ingredients and mix it well with the help of a blender. Do make sure the dry and wet ingredients are mixed well.
In another bowl, add peanut butter, powdered sugar, salt, vanilla and butter and blend it well with a mixer or blender.
Now pour the cake batter in the baking dish and gently spread the peanut butter filling on it and add another cake layer on it.
Bake the cake for 50 minutes so the batter is baked well and achieves consistency in texture. Remove it from the oven and let it cool down on a wire rack.
Take the cake out and top with chocolate or peanut butter glaze as desired.
Your delicious Chocolate Peanut Butter Bandt Cake is ready.
How to prepare the chocolate or peanut butter glaze?
To prepare the glaze, take a large bowl and add finely chopped chocolate and cream in it.
Microwave the glaze mixture for 30 seconds, then remove it to stir well.
Microwave the glaze for another 15 seconds, then remove it to whisk and stir well.
Your glaze is ready, just pour it on the cake and enjoy!
For preparing peanut butter glaze, but peanut buttercream instead of finely chopped chocolate.