Prepare Raspberry Peach Lemonade and refresh yourself with its fantastic taste. It's an ideal summer drink. Read on to learn the recipe!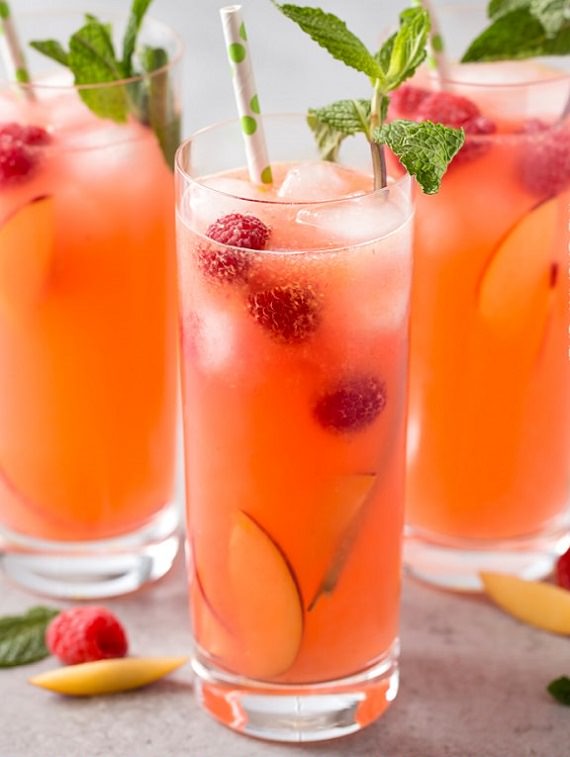 Make this refreshing raspberry peach lemonade and make the most of your summer. It's a fresh and ideal beverage for a perfect summer party! It is prepared in an instant just requiring three ingredients: peaches, raspberries and water and serves as an astounding delight to your friends.
Preparation Time: 15 minutes
Servings: 8 servings
Ingredients
Raspberry Peach Puree
4 fresh peaches, pitted, then diced into large chunks
1 cup fresh raspberries
1 1/4 cups water
Simple Syrup
1/2 cup granulated sugar
1/2 cup water
Lemonade
7 cups cold water
1 1/4 cups fresh lemon juice (from approximately 4 lemons)
ice cubes
additional raspberries, for garnish optional
additional peach slices, for garnish optional
mint sprigs, for garnish optional
Preparation Instructions
Take a bowl and add finely chopped peaches, raspberries, and water. Now blend it with the help of a food processor.
Sieve it over a large bowl, so the juice can be extracted from the peach paste.
Now pour the fresh peach juice in a jug, add sugar-water warm mixture, lemon juice, and ice cubes. Stir well and let it cool.
Your homemade raspberry peach lemonade is ready, serve it with peaches, peaches, and lemon slice!