Make this Rhubarb and Almond cake to delight your birthday parties, wedding anniversaries as well as seasonal celebrations.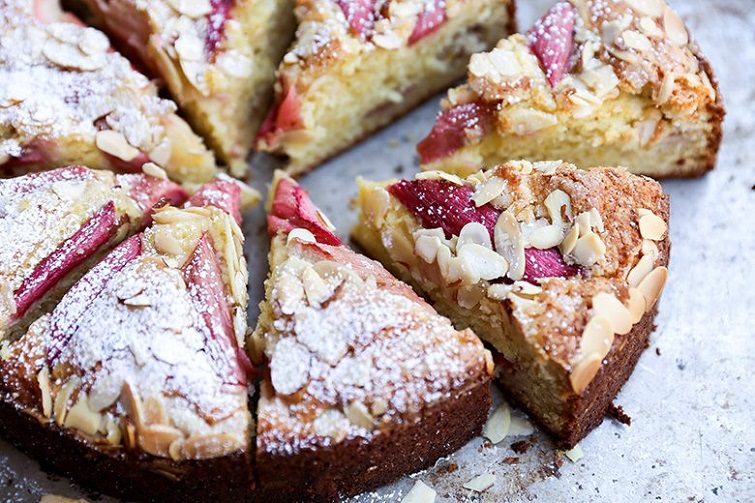 Rhubarb-Almond Cake is a delicious delicacy, easy to prepare and a perfect delight when throwing surprising parties. If you have never prepared a cake before, this recipe could your successful attempt to impress your friends and greet them with this tenderly soft moist dessert.
Serves: Makes one 10-inch cake
Preparation Time: 20 minutes
Cooking Time: 40 minutes
Total Time: 60 minutes
Ingredients
1 cup plus 1 tablespoon sugar, divided
1/2 cup (8 tablespoons) unsalted butter, softened at room temperature
2 eggs
1 cup Greek yogurt
1 tablespoon orange zest
3/4 tsp. vanilla extract
1/4 tsp. almond extract
1 1/2 cups all-purpose flour
1/2 cup almond meal
1 tsp. baking powder
1/2 tsp. baking soda
1/2 tsp. ground cardamom
1/4 tsp. salt
About 0.75 lbs rhubarb
1/3 cup sliced almonds
Powdered sugar for serving, if desired
Preparation Instructions
Start your preparation by preheating the oven to 350°F.
Take a baking dish, coat it with parchment paper and spray non-stick cooking oil on it. Leave it aside.
Pick a bowl, add sugar and butter and mix it with the help of a blender. Now add eggs, yogurt, orange zest, and extracts and mix it again.
Take another bowl, add flours, baking soda, cardamom, and salt and mix the combination well.
Cut the rhubarb sticks into thin pieces.
Pour the batter in the baking dish and carefully place thin pieces of rhubarb in it.
Transfer the baking dish to the oven and let it bake for 40 minutes.
Take the cake out and freeze it properly.
Your Rhubarb-Almond cake is ready to serve.