Learn this super easy crunchy detox salad recipe! It's delicious, filled with organic veggies and ideal for traveling or office lunch.
This crunchy detox salad is loaded with healthy ingredients like parsley, raisins, sunflower seeds, carrots, broccoli, and cauliflower. It's easy to make, tasty, and ideal for people who're going through a diet period.
This utterly delicious recipe packs in essential nutrients and phytochemicals that help in detoxifying your body. The recipe has a rich taste and flavored with delightful vinaigrette. Read on to learn how you can prepare it and make it a part of your healthy diet routine.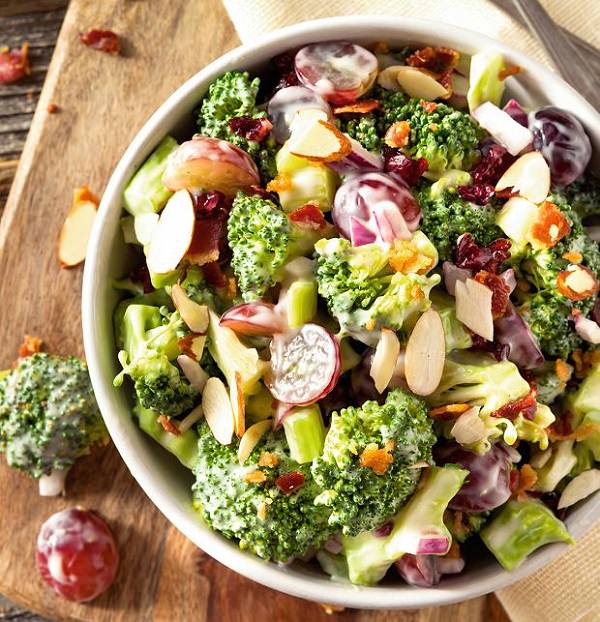 Serves: 6 servings
Preparation Time: 30 mins
Ingredients:
2 cups cauliflower
2 cups broccoli
1 cup red cabbage, roughly chopped
1 cup carrots, roughly chopped
1-1/2 cups fresh parsley
2 celery stalks
½ cup almonds
1/2 cup sunflower seeds
1/3 cup organic raisins
For The Vinaigrette
3 Tbsp Olive Oil
2 Tablespoon Mayonnaise
½ cup Lemon Juice
1 tablespoon Fresh Ginger, peeled and grated
2 tablespoons Clover Honey
1/2 teaspoon Sea Salt
How to Prepare the Vinaigrette
Follow the instructions to learn preparing vinaigrette and add a tasty flavor to your crunchy detox salad:
Take a bowl and add olive oil, mayonnaise, lemon juice, peeled and grated fresh ginger, clove oil, and sea salt in it.
Use a hand blender or whisk to mix everything.
Place the bowl in the refrigerator and let it cool for half an hour.
Your vinaigrette is ready for use.
Crunchy Detox Salad Recipe
Chop all the veggies in the ingredient list with a sharp knife or a food chopper.
Take a large bowl with a closing lid.
Place the finely chopped veggies in the bowl, close the lid and shake it to mix properly.
Toss the veggie salad with the vinaigrette.
Garnish it with sunflower seeds to enhance its flavor.
Your crunchy detox salad is ready to serve.