This German chocolate bundt cake recipe is loaded with coconut-pecan frosting and can be a mouth-watering dessert for any occasion!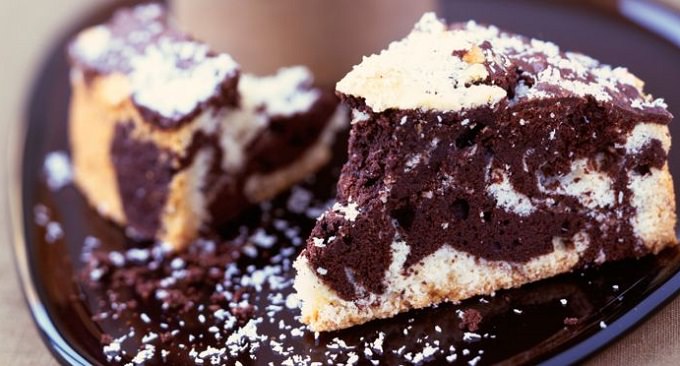 When it comes to special occasions, cakes rule! What if we told you that today, we have something amazing in the store that'll help you prepare one of the yummiest cakes around! Yes! You read that right! Today we have an Easy German Chocolate Bundt Cake Recipe,  tossed with classic german frosting. It is the tastiest blend of chocolate and vanilla flavors!
What makes this taste really drool-worthy is its coconut pecan frosting! Its melt-in-your-mouth nature makes it too hard to resist while the outer, crunchy layer of pecan completes the experience!
Serves: 10
Prep time: 20 mins
Cook time: 50 mins
Total time: 1 hour 10 mins
Ingredients
For cake:
1 box German chocolate cake mix
1 box instant coconut cream pudding mix
4 eggs
1 c. sour cream (reduced-fat is fine)
¼ c. vegetable oil
1 c. milk chocolate chips
⅓ c. shredded coconut
⅓ c. chopped pecans
For the coconut-pecan frosting:
1 c. sugar
1 c. evaporated milk
½ c. butter
3 eggs
1⅓ c. coconut
1 c. chopped pecans
1 tsp. vanilla
For topping:
1 c. milk chocolate chips
¼ c. heavy cream
2 tbsp. butter
½ c. toasted coconut
Instructions
Preparing Cake
Mix cake mix, instant pudding mix, eggs, sour cream, oil, chocolate chips, pecans, and chopped coconut in a large bowl, and stir all the ingredients thoroughly.
Take a large tube or a bundt pan and spray it with non-stick spray.
Spread the above-prepared batter evenly into the pan.
Now, preheat the oven at 350 F and bake the batter for around 45 minutes.
Alternatively, you can check if your cake is ready by poking a toothpick at the center of the cake and see if it comes out clean.
Now, remove the pan and keep it on a wire rack to let it cool for around 10-15 minutes.
Turn the cake to another side of the wire rack to cool it completely.
Note: Spray the pan with a non-stick spray and pour some cocoa powder over its surface to prevent the cake from sticking to the pan.
Preparing Coconut-pecan Frosting
Pour sugar, condensed milk, butter, and egg yolks in a bowl and stir them thoroughly.
Now, pour the mixture into a large saucepan and keep it on medium heat.
Boil the mixture for around 10-12 minutes and keep stirring it continuously otherwise, eggs may scramble out of the pan.
Once the content becomes thick enough and starts boiling, remove the pan from the heat.
Add pecans, coconuts, and vanilla to it and blend thoroughly.
Let it cool to room temperature.
Spread this frosting at the top of the cooled bundt cake.
Note: You can prepare the frosting some days before and store it in the fridge for up to 3 days.
Preparing Topping
Take a small microwave-safe bowl and pour chocolate chips, heavy cream, and butter into it.
Microwave it on the high setting at 30 seconds intervals, until the chocolate melts down and the mixture becomes perfectly smooth.
Spread it over the bundt cake evenly.
Sprinkle some toasted coconuts over the cake.
Leave the cake for 10-15 minutes to allow its topping to set over the cake.
Your cake is ready to serve, cut it in slices, and enjoy!