If you are looking to cheer yourself with crispy and spicy snacks, these Homemade Extra Crispy Onion Rings will come in handy!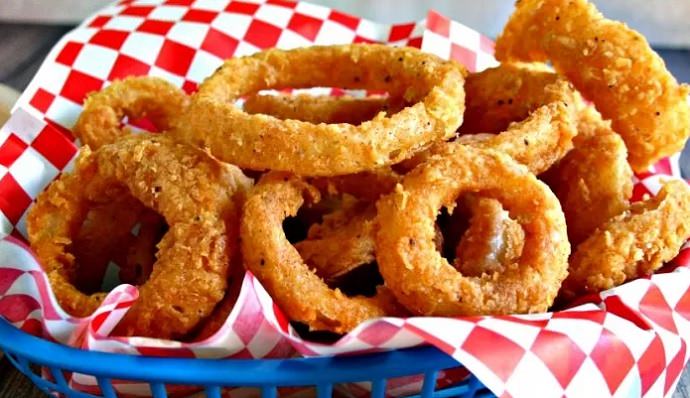 These Homemade Extra Crispy Onion Rings are easy to cook and can be prepared instantly. These crispy munchies are going to give your tastebud a spicy treat that you can enjoy while watching Netflix with your friends!
For cooking these munchies, the onion slices are coated with two different mixtures that impart a spicy flavor to them and then finally fried in oil.
Serves: 20 rings, 5
Preparation Time: 20 minutes
Cooking Time: 15 minutes
Total Time: 40 minutes
Ingredients
1 Onion
½ cup of all purpose flour
1 T of baking powder
1 T of paprika
1 egg
¾ cup of milk
1 t of ground pepper
Salt (as desired)
Bread crumbs to coat
Oil for frying
Preparation Instructions
Cut the onions in rounds, making it 1 by 4 inches thicker.
Separate all the scale leaves from each other, forming multiple sized rings.
In a bowl, take flour, baking powder, salt, and paprika then mix everything thoroughly.
Now dip each onion rings in the paste one by one, coating them uniformly with it.
Shake off excess flour from the onion rings.
In a medium-sized bowl, pour milk, pepper, egg and whisk it until everything gets uniformly mixed.
Add some flour to this mixture, and stir it immediately, making sure no lumps are formed.
Now coat your rings in this mixture also.
Finally, cover the layers of each ring by dipping them in the breadcrumbs.
Take a frying pan and deep fry all the rings in the oil, making sure not to over fry them.
Once you fry all the rings, dab the rings with paper towels so as to remove the excess oil from them.