Try this flavorful, vegetarian, and easy to prepare Spinach Lasagna Roll-Ups and enjoy its cheesy taste!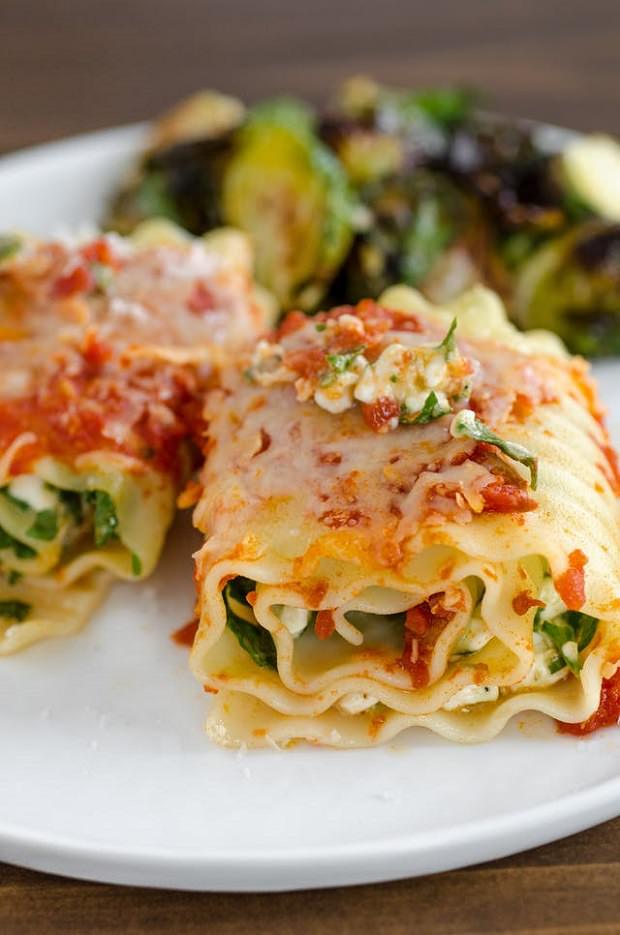 The spinach lasagna roll-ups are flavorful, super delicious, and easy to prepare. The delightful Italian cuisine comes filled with spinach, lots of cheese, home-prepared tomato sauce and Lasagna noodles. If you're not a spinach person, you could fill it with meat or mushrooms and enjoy a stellar dinner meal.
There are plenty of options to serve spinach lasagna roll-ups. You can serve it with creamy tomato sauce or garlic bread by side or prepare a healthy salad loaded with green veggies and seasoned with a variety of flavorful spices.
Serves: 8 servings
Preparation Time: 20 mins
Cooking Time: 25 mins
Total Time: 45 mins
Ingredients
Tomato Sauce:
1 tablespoon olive oil
1 medium onion, diced
28 ounce can of crushed tomatoes
3 garlic cloves, minced
3 teaspoons dried basil
2 teaspoons dried oregano
2 teaspoons dried parsley
Salt and Pepper, to taste
Filling:
10-ounce package of frozen spinach, thawed
15 ounces ricotta cheese
2 and ½ cups mozzarella cheese, shredded
⅔ cup parmesan cheese, shredded
1 large egg
Noodles:
Preparation Instructions
Prepare the tomato sauce by moderately heating olive oil and finely chopped onions in a medium-size saucepan. Stir and saute until the onions turn crisp and translucent.
After sauteing onion and olive oil, add crushed tomatoes, minced garlic cloves, dried basil, oregano, and parsley in the saucepan and stir it for 20 minutes. Your deliciously rich tomato sauce is ready!
Take the packet of lasagna noodles and cook it by following the package instructions and drain excess water. Let them dry until we prepare our lasagna fillings.
Take a medium bowl and combine frozen or fresh spinach, ricotta cheese, shredded mozzarella cheese, egg, and shredded parmesan cheese. Mix it well, your filling is ready!
Spread a wax paper on the kitchen countertop and place lasagna noodles on it.
Now fill each lasagna noodle with the filling, roll it carefully and put them in the baking dish.
Spread and ladle the tomato sauce and mozzarella cheese over the lasagna noodles and cover them with aluminum foil.
Bake the noodles dish for over 30 minutes to let the cheese melt.
Your lasagna rolls are ready! Just serve them with sauce and enjoy!
A Helpful Reminder
You can use both frozen and fresh spinach to prepare this recipe. While using frozen spinach ensure it is not completely moisture ridden as it can affect the taste of the fillings.