This fluffy Greek yogurt pancake is fun to cook and is surely going to become a great delight for your Sunday brunch plate!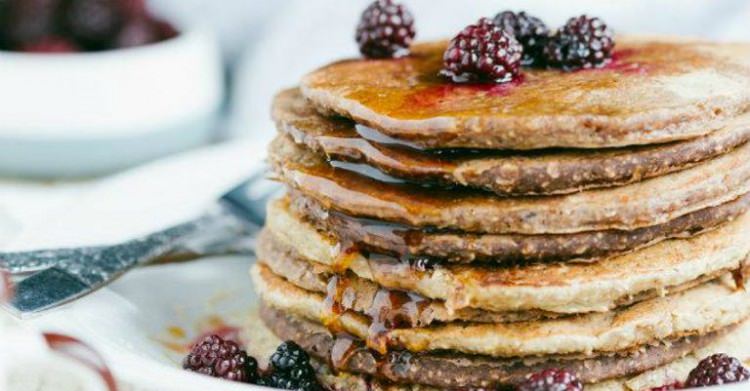 If you are one of the women who love to surprise their kids with some innovative cooking approaches, then this pancake recipe is undoubtedly going to top in all your pancake recipes that are prepared with protein-packed dairy products.
These Fluffy Greek Yogurt Pancakes are made from a mix of all-purpose and whole wheat flours. Here, two separate mixtures are blended, then fried on the griddle. Moreover, the addition of maple syrup imparts a wonderful taste to the set of delicious pancakes!
Serves: 4
Prep Time: 10 Minutes
Cook Time: 5 Minutes
Ingredients
1 cup whole-wheat flour
4 teaspoons baking powder
1 Tablespoon of sugar
1 1/2 cups unsweetened almond milk
2 eggs
1/2 teaspoon salt
1 cup all-purpose flour
2 teaspoons vanilla extract
1/2 cup plain Greek yogurt
Maple syrup
Fruits
Preparation Instructions
Take a large bowl, mix wheat flour, baking powder, all-purpose flour, sugar, and salt in it, then whip them up.
In another bowl, pour the egg yolk, almond milk, and vanilla extract, then stir it to mix everything properly.
Mix both the above-prepared mixture and whisk it after adding some yogurt.
Take any non-stick skillet, spray it with non-stick cooking spray and heat it over the medium flame.
For making pancakes, pour the batter over your pan using a spoon and cook it for around 3-4 minutes until the bubbles start merging around it.
Now, turn the pancake to the other side and cook for another 2 minutes.
Move this pancake to a plate and make more such pancakes from the remaining batter.
Garnish your mouth-watering pancakes with maple syrup along with some fruits, and serve it!