Chocolate Turtle Poke Cake is a mood-lightening dessert, ideal for a birthday party as well as a quick delight recipe. Read on to learn and try it!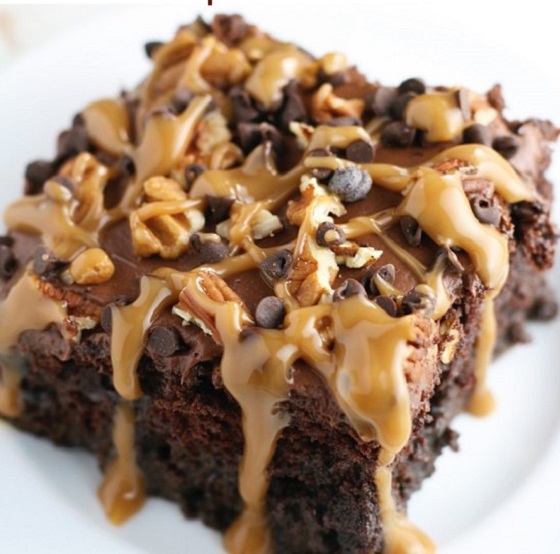 Chocolate Turtle Poke Cake is incredibly delicious and super perfect for birthday parties as well as family gatherings. Filled with chocolate, caramel, and condensed milk, it's an excellent recipe to delight your loved ones. It can be prepared easily in a hassle-free manner. You can decorate it with walnuts or chocolate chunks or cherries, incase you want to add a unique flavor to it.
Ingredients
1 (15.25 oz) package chocolate cake mix, prepared according to package instructions
1 (14 oz) can Eagle Brand Caramel Flavored Sweetened Condensed Milk
1 (16 oz) can store-bought chocolate frosting
1 cup chopped pecans
1/2 cup mini chocolate chips
Store-bought caramel syrup for drizzling on top of the cake
Preparation Instructions
Bake the cake according to the instructions given on the package.
Once baked, let it cool for 10 minutes.
Poke holes over it with the help of a wooden stick or spoon.
Pour caramel flavored condensed milk in the hole and cover the cake entirely.
Now freeze the cake for around 1 hour and do icing with a store-bought chocolate frosting.
Top it with chocolate chips, walnuts, cherries or any nut of your choice.
Take caramel syrup and drizzle over the cake carefully.
Your Chocolate Turtle Poke Cake is ready, just cut in desired portions and enjoy!