Give your tastebuds a twist of spicy flavors by cooking this Cabbage Sauteed With Chicken recipe with the help of this article!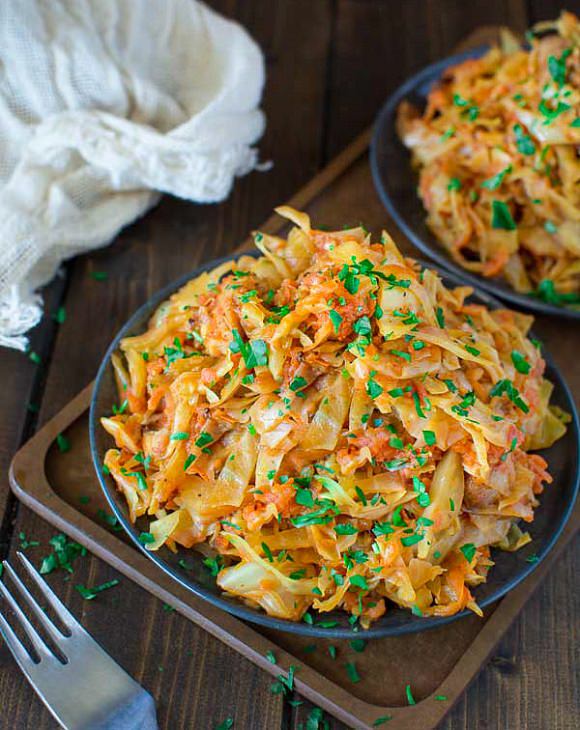 This Cabbage Sauteed with Chicken recipe can be a great way to cheer your family on any weekend. This dish is mainly prepared with shredded cabbage and chicken, also some spices like paprika and bay leaves are added for giving this chicken recipe a spicy nudge.
So, exhibit your cooking skills by preparing this mouth-watering recipe and serve it with steamed rice or mashed potatoes after sprinkling some fresh chopped parsley over it.
Ingredients
3 tbsp olive oil
1/2 lb boneless chicken thighs, cut into small pieces
1 small cabbage
2 medium carrots (shredded)
3 tomatoes
3 bay leaves
1 cup chicken stock
salt
chopped fresh parsley to garnish
Preparation Instructions
Heat the pan over a medium to high flame and add olive oil to it.
Pour chicken to this pan and fry it for 6-8 minutes until it turns brown.
Now, put the chopped cabbage into this pan.
Now, put some paprika and tomato paste to this chicken dish and fry it for another five minutes.
Now, add some shredded carrots, chicken broth, salt, and pepper to this mixture and stir it.
Fry it for around half an hour at low flame.
Pour some hot sauce from the top and serve it after garnishing with parsley!