A delicious spiced zucchini cake topped with thick cream cheese frosting. Check out!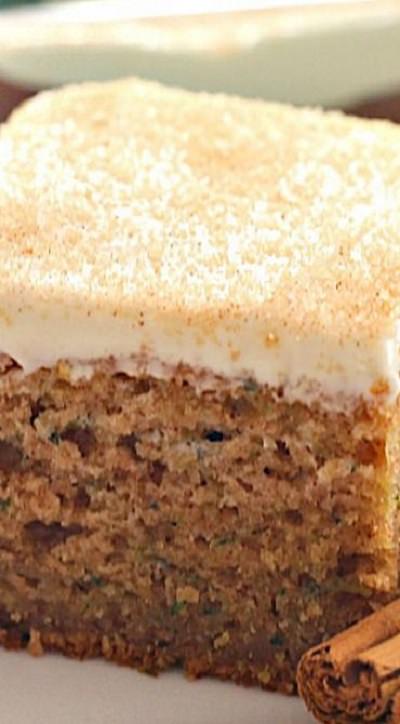 This has been one of my favorite recipes to date- it's pretty much delicious zucchini bread with thick frosting on top. And it's amazing.
Beat eggs, vegetable oil, applesauce, white sugar, brown sugar, and vanilla together in a large bowl. Add in flour, baking powder, baking soda, cinnamon, salt, and nutmeg and mix well. Fold in zucchini and stir until completely mixed in. Pour batter into prepared 9×13″ pan.
Serves: 16
Prep Time: 12 min
Cook Time: 40 min
Total Time: 52 min
Ingredients
3 eggs
1/2 cup vegetable oil
1/2 cup applesauce
3/4 cup white sugar
3/4 cup brown sugar
2 teaspoons vanilla
2 1/2 cups all-purpose flour
1/4 teaspoon baking powder
2 teaspoons baking soda
1 1/2 teaspoons cinnamon
1 teaspoon salt
1/2 teaspoon nutmeg
2 cups shredded zucchini
Frosting:
1 (8 oz) package cream cheese
1/4 cup butter, softened
3 cups powdered sugar
1 teaspoon vanilla