The super crispy crust and the flavorful toppings of Rustic Italian Pizza Dough Recipe make it a great delight for all the pizza lovers!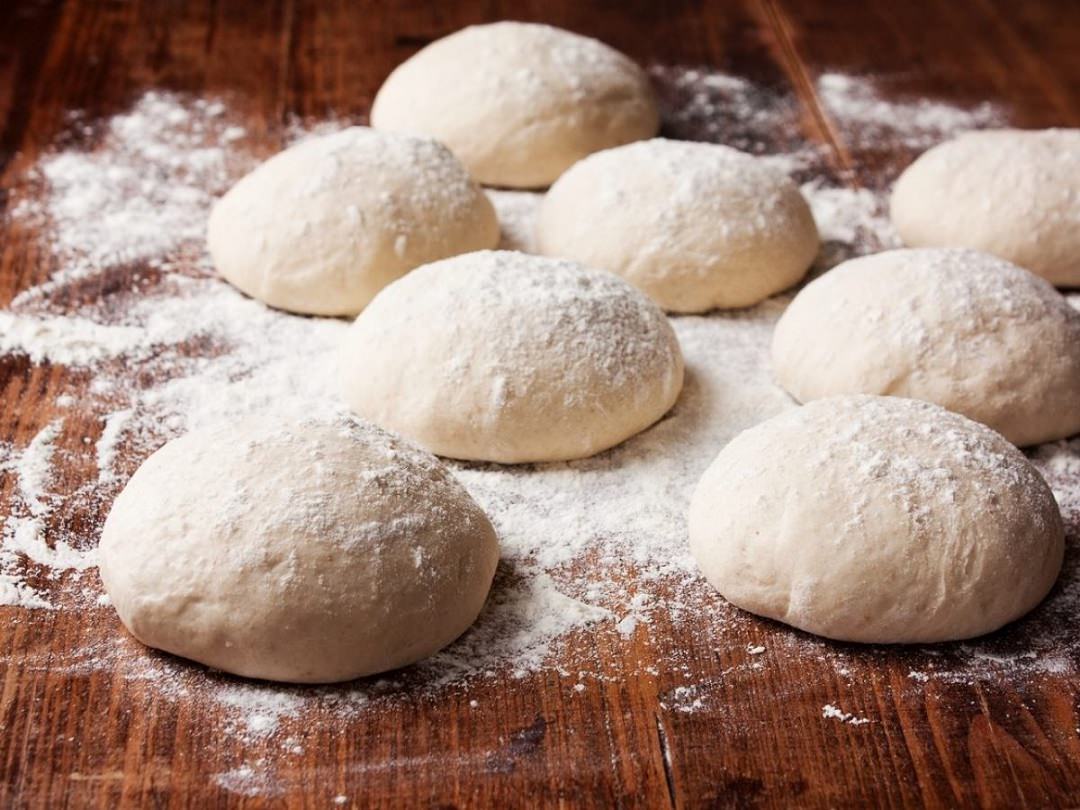 What makes this pizza a true delight is its crunchy yet chewy texture! Topped with luscious slices of heirloom tomatoes and mozzarella, you simply can't resist it! Moreover, the addition of chief Italian herbs like basil and oregano brings a burst of flavors to this Rustic Italian Pizza Dough Recipe.
However, this pizza requires you to bake it at more than 500°F temperature, but don't worry! Even if you don't have an oven for this, you can bake it under the broiler flames for the last few minutes that will give your pizza a taste similar to the wood-burning pizza!
Servings: 6
Prep Time: 10 mins
Cook Time: 7 mins
Total Time: 17 mins
Ingredients
5 c flour for dusting
1 1/2 tsp yeast
1 1/2 tsp sea salt
2 1/4 c cold water
1 tbs extra virgin olive oil
Toppings You Can Prefer:
Caramelized onions
Grilled Bell Peppers
Heirloom Tomatoes
Fresh Basil
Green Onions
Smoked Mozzarella Cheese
Preparation Instructions
In a kitchen aid bowl, pour salt, flour, and dry yeast and mix all the ingredients using a paddle attachment, then add some cold water into it.
Now, using a dough hook, again mix everything at low speed for 8-10 minutes, so as to make the dough more smooth and sticky.
After blending everything properly, remove the dough from your kitchen aid.
Now, divide the dough into 6 parts and make their small balls.
Keep all the balls on a lightly greased cookie sheet, and drizzle them with the olive oil.
Cover all the rounds with plastic wrap and leave them at room temperature for around 2 hours.
Now, pick one dough ball and using your fists, stretch and spread it in any shape you prefer and sprinkle some flour over it.
Pour 2-3 tablespoons of the pizza sauce at the center of the dough and spread it around with the help of a pizza peel spoon.
Sprinkle some mozzarella slices or any of your favorite toppings over it for churning out more flavors into it.
Preheat the oven at 530°F and bake the dough for 6-8 minutes, until its edges turn brown.
Remove the dough from the oven and serve it after garnishing it with fresh basil and oregano!
Note: Heat your oven at high temperature for 45 minutes to one hour.
Tip: While doing its topping with heirloom tomato slices, then use only firm ones.