Learn to prepare this deliciously sweet Apple Fries. They're fried, crispy, and served with caramel cream dip for a better taste!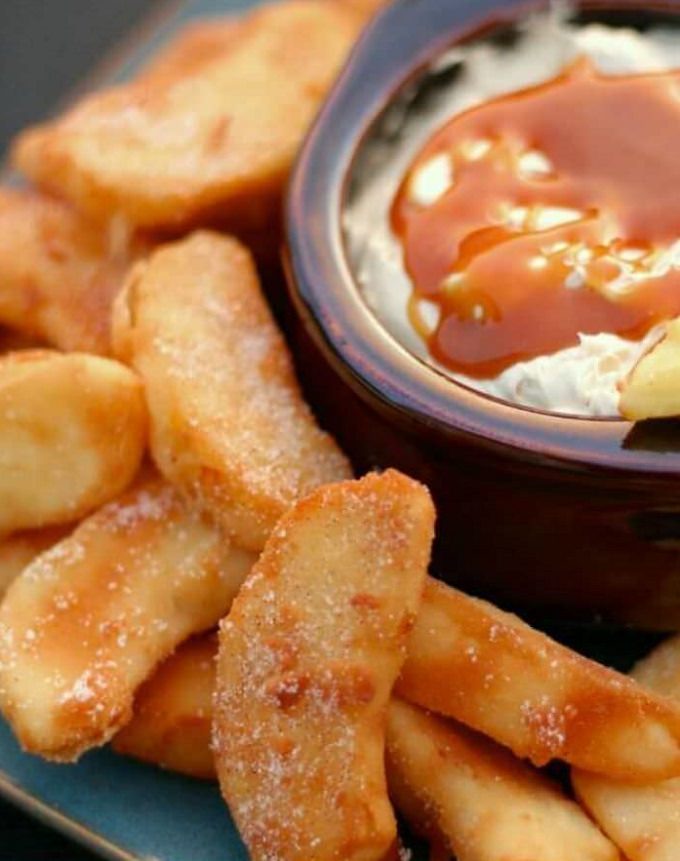 If you're looking for an evening light desert, then Apple Fries with Caramel Cream Dip is a perfect choice for you! They're easy to prepare, yummy in taste and makes up for a perfect surprise. Overall apple fries and caramel are a killer combination!
Preparation Time: 20 minutes
Cooking Time: 10 minutes
Total Time: 30 minutes
Ingredients
For the Apples:
4 to 5 tart apples, we used Pink Ladies
1 cup buttermilk
1 cup sugar
Wondra flour
Vegetable oil for frying
Cinnamon and sugar, to taste
For the Dip:
1 (8 oz) cream cheese
1 small container cool whip (or 1 cup whipping cream with 1/2 cup sugar- whipped until
stiff)
1 cup caramel sauce
Preparation Instructions
Take a frying pan and add vegetable oil in it. Leave it aside to get hot.
Now take a medium-size bowl and add buttermilk and sugar in it and mix it properly.
Place the finely sliced apples in the buttermilk and silk combination and coat it with wonder flour.
Carefully place the buttermilk coated milk in hot oil and let it fry for some time.
When fried properly, take out the apples, soak in paper towels to remove excess oil and sprinkle cinnamon and sugar.
To prepare the dip, just blend cream cheese and caramel sauce for a few minutes.
Your apple fries are ready, just serve them with cream cheese dip and enjoy!