These Reese's Cupcakes are fudgy, creamy, delicious and offer an amazing treat! Read on to learn the recipe!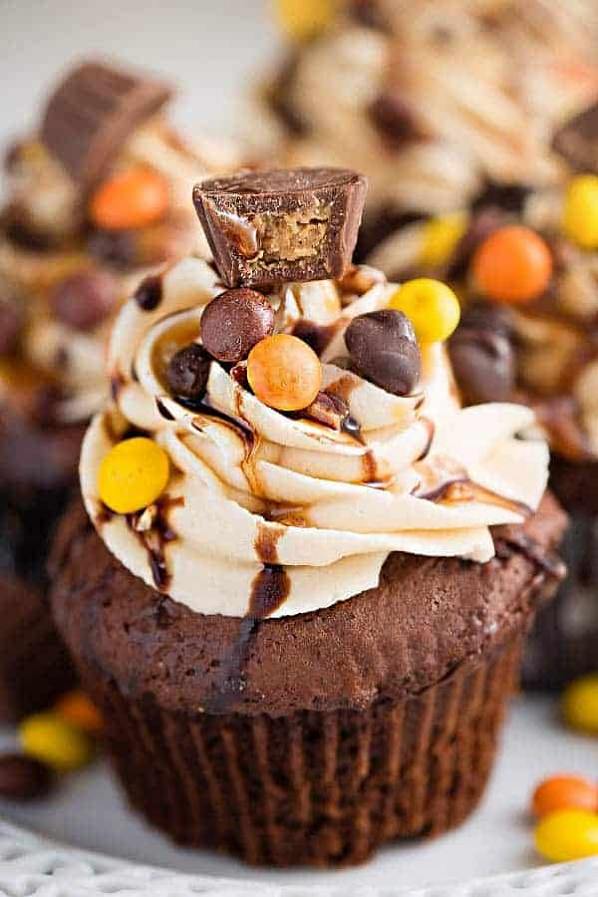 Filled with peanut butter, chocolate and cream, the cupcakes are perfect for party, family gathering as well as casual friend outing. They're fudgy and yummy in taste and a perfect dessert. They're also easy to prepare and gets ready in just 1 hour 30 minutes.
Yield: 12 Cupcakes
Total Time: 1 House 30 Minutes
Ingredients:
Chocolate Batter
1/4 cup cocoa powder
1/2 cup flour
1/2 tsp baking powder
1/4 tsp baking soda
1/8 tsp salt
1/2 stick butter, room temperature
6 tbsp sugar
1 egg
1/2 tsp vanilla
2.5 tbsp sour cream
1 tbsp melted chocolate, cooled
Peanut Butter Batter
1/2 cup & 1 tbsp flour
1/4 tsp baking soda
1/2 tsp baking powder
1/4 tsp salt
2.5 tbsp peanut butter
2 tbsp vegetable oil
1/4 cup brown sugar
1/4 cup buttermilk
1 egg
1/4 tsp vanilla
Chocolate Buttercream
1 stick butter
1/2 cup vegetable shortening
3/4 cup cocoa
2-2.5 cups powdered sugar
Peanut Butter Buttercream
1 stick butter
1/2 cup vegetable shortening
3/4 cup peanut butter
2-4 cups powdered sugar
Additional
Reese's Peanut Butter Cups, half or whole to top each cupcake. Add chopped Reese's to the batter or buttercream too.
Preparation Instructions
How to prepare the cupcakes?
Start your preparation by preheating the oven to 350°F.
Prepare a baking dish for muffins by laying parchment paper on the bottom and spraying non-stick cooking oil.
Add cake mix, milk, eggs, oil and greek yogurt in a bowl and mix until its smooth.
Now take cupcake pans and fill each one with the batter.
Place peanut butter cups over the chocolate cups.
Bake the cupcakes for 15-20 minutes and allow it cool completely before frosting.
How to prepare the peanut butter frosting?
Properly mix and beat butter and peanut butter in a bowl, until it turns smooth.
Add vanilla and powdered sugar until it is well combined.
Carefully add milk and mix it well along with the remaining ingredients.
Take a frosted cupcake, chop its pointed end and fill the batter in it.
Frost and use it over the cupcakes!
Your delicious Reese's cupcake is ready!