Loaded with fresh ingredients, this garden vegetable pasta salad is healthy, rich in taste and make up for a great breakfast. Read on to learn the recipe!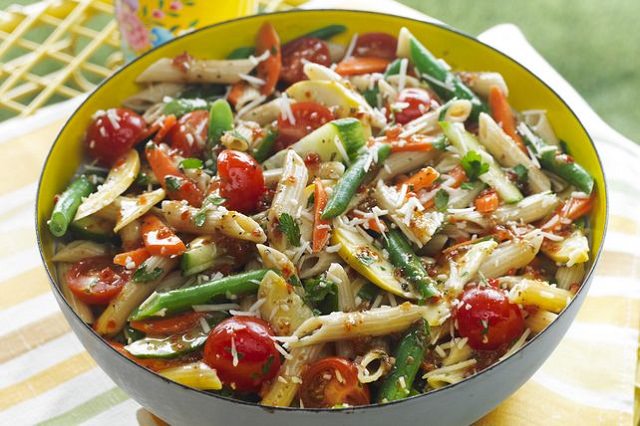 The garden vegetable pasta salad is filled with fresh veggies and citrus vinaigrette. It's easy to prepare, gets ready in 20 minutes and ideal for a nutritious breakfast or lunch. It has a unique lemon flavor attached to it which makes it even more delicious!
Serves: 8 servings
Prep time: 20 mins
Cook time: 10 mins
Total time: 30 mins
Ingredients
For the salad:
2.5 cups uncooked pasta
20 cherry tomatoes, sliced in half
1 green zucchini, thinly sliced
1 yellow zucchini, thinly sliced
1 broccoli crown, chopped into small florets
½ red onion, sliced
½ red bell pepper, sliced
For the dressing:
½ cup extra-virgin olive oil
¼ cup red wine vinegar
3 Tablespoons fresh lemon juice (the juice from half a lemon)
1 teaspoon sugar
1 teaspoon dried oregano
½ clove garlic, minced
½ teaspoon salt
Pepper to taste
Preparation Instructions
Take a bowl and boil salt and water in it.
Finely chop the veggies into biteable pieces.
For the dressing, mix all the ingredients in a bowl.
Prepare the pasta according to the package directions.
Pour the pasta and dressing in the vegetable pot and mix all of it together.
Your healthy garden vegetable pasta salad is ready to serve!