These Quick and Crispy Vegetable Fritters are the best option to satisfy the spicy snack craving that you can prepare instantly!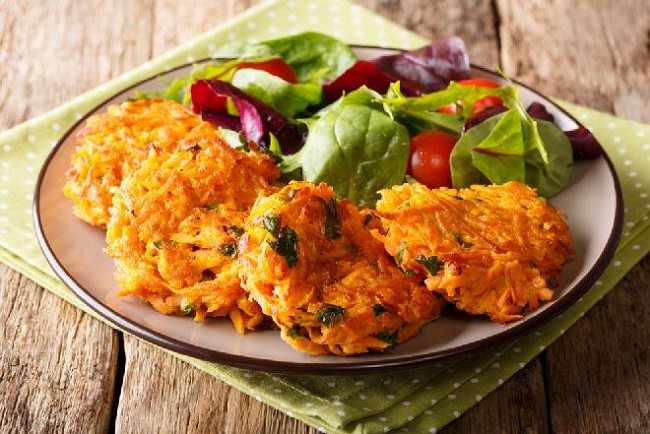 If you are searching for a crispy snack option that is healthy as well as spicy, then these Quick and Crispy Vegetable Fritters are going to meet your needs. So, next time whenever you crave to munch some spicy snacks, prepare them instantly using readily available veggies!
Here, shredded zucchini and carrots are tossed with eggs, garlic, scallions, and some flour. Its mounds are deep-fried until they turn crispy. You can enjoy these crispy vegetable fritters with tangy sour cream or yogurt!
Prep Time: 20 Minutes
Cook Time: 10 Minutes
Serves: 12 Fritters, 3
Ingredients
2 cups shredded zucchini
2 cups shredded carrots
2 cloves garlic, minced
2/3 cup all-purpose flour
2 large eggs
1/3 cup sliced scallions (green and white parts)
Vegetable oil
Sour cream or yogurt
Preparation Instructions
Put the shredded zucchini in a sifter or colander and dust some salt on it.
Leave the zucchini for 15 minutes, then press it with hands so as to extract the liquid out of it.
Move the shredded zucchini into a bowl and add shredded carrots, garlic, flour, eggs salt, pepper and scallion in it.
Put the large pan on a medium flame, and pour some olive oil in it.
Using a spoon, put the vegetable mixture into the pan making mounds of it.
Flatten them slightly and maintain some spacing among all the fritters.
Fry this fritter for 3-4 minutes, then turn them to the other side and fry.
Once they get golden brown and crispy, take them out of the pan and put them in a paper towel wrapped plate.
Sprinkle some salt to it as per your taste.
Serve these sizzling fritters with sour cream and yogurt!