Learn to cook this authentic Thai cuisine – One Pot Spicy Thai Noodles. It's filled with zucchini, mushroom, garlic, and tossed with hot sauce. Read on to learn more!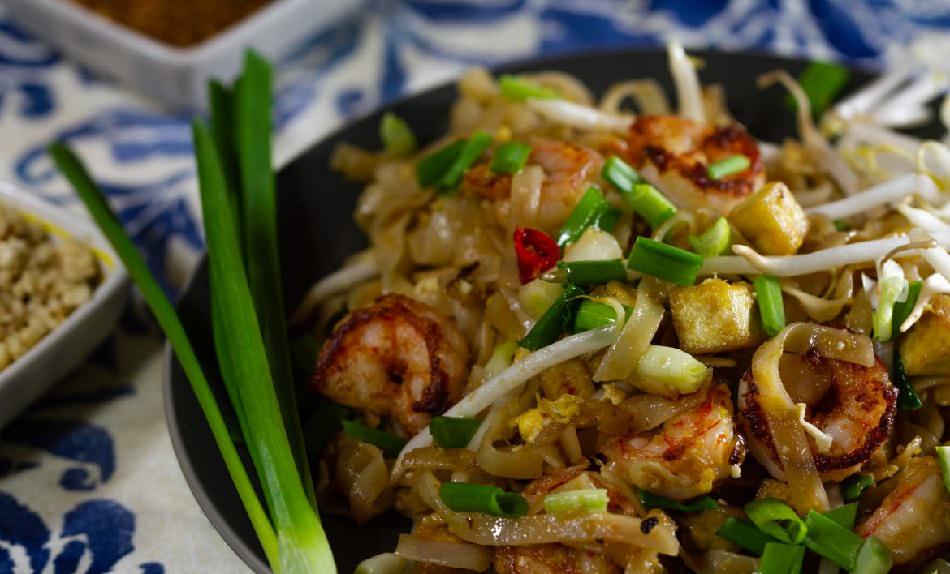 Made from green veggies, zucchini, garlic and mushroom, these One Pot Spicy Thai Noodles are easy to cook, taste super delicious, and are ideal for a perfect Asian cuisine dinner idea.
Preparation Time:  10 minutes
Cooking Time: 15 minutes
Total Time: 25 minutes
Servings: 3
Ingredients
1 pound linguine
2 TBS olive oil, divided
2 large eggs, lightly beaten
1/2 tsp crushed red pepper flakes
1 zucchini, cut in half vertically, then sliced in half circles
8 ounces mushroom, chopped
3 cloves garlic, minced
2 TBS brown sugar
1/3 cup low sodium soy sauce
1.5 TBS Sriracha hot sauce (this is A LOT of spice, tone it down if you don't like spicy)
2 inches fresh ginger, grated
1 handful fresh cilantro, chopped
4 green onions, chopped
1/4 cup peanuts, chopped
Preparation Instructions
Make the linguine pasta by following the directions given on the package.
Now take a small bowl and add ginger, sriracha, soy sauce, and sugar. Leave it aside.
Prepare scrambled eggs paste by heating eggs, red pepper flakes and stir them in olive oil.
Heat the stove, take a pot and add zucchini, garlic, and mushrooms and saute it in olive oil. Let it cook on a medium flame for 5 minutes.
Now add linguine pasta and scramble eggs paste in the pot, and mix the contents well on a low flame. Sprinkle onions, peanuts or cilantro for some extra flavor!
Your tasty One Pot Thai Noodles are ready!