Coconut Cream Pie Bars are a heavenly mix of creamy coconut and whipped cream, topped up on a buttery shortbread crust!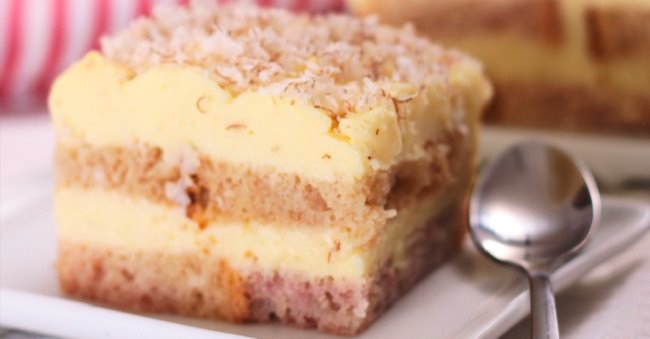 Creamy coconuts, a cloud of whipped cream, and buttery shortbread crust make these heavenly Coconut Cream Pie Bars extremely mouthwatering! If you are someone who loves coconut, then you'll not be able to resist yourself from making this.
The creamy center, filled with loads of whipped cream and toasted coconuts, gives it a smooth and crunchy texture that bursts in your mouth with its goodness! These pie bars, consisting of a blend of various flavors, can become a great recipe for your family every weekend.
Serves: 12-16
Prep time: 10 mins
Cook time: 60 mins
Total time: 1 hour 10 mins
Ingredients
Crust Ingredients:
1 cup (2 sticks) butter
2 cups all-purpose flour
1/2 cup powdered sugar
Coconut Cream Filling Ingredients:
3 cups half-and-half
3 cups of coconut milk
4 eggs
1 1/2 cups white sugar
2/3 cup cornstarch
1/2 teaspoon salt
1 1/2 cup flaked coconut
1/2 teaspoon coconut extract
1/2 teaspoon vanilla extract
Whipped Cream Topping Ingredients:
2 cups heavy whipping cream
1 tablespoon cold water (for stabilizing)
1 teaspoon gelatin (for stabilizing)
3-4 tablespoons powdered sugar
1 cup coconut, for toasting
Instructions
Preparing Crust
Preheat the oven to 350°F and prepare a 9×13 inch baking pan.
Mix graham cracker crumbs with butter and pour this mixture into the pan.
Bake it for around 20 minutes until it gets brown.
Remove from the oven and put it on a wire rack for around 15-20 minutes to let it cool.
Toast Coconut
Take around one cup of the coconut flakes and spread it on a baking sheet. Bake until they become golden brown.
Take out and let it cool completely.
Coconut Cream Filling
Take equal parts of coconut milk, eggs, sugar, cornstarch, and salt in a saucepan and boil it on the low heat for 15-30 minutes, and whisk constantly.
Add coconut and vanilla extracts, and stir continually.
Pour this filling over your crust, and let it cool for a while.
Whipped Cream Topping
Take one tablespoon water in a bowl, and sprinkle the gelatin over it uniformly.
Microwave it for 30 seconds, and whip it to dissolve the gelatin.
Take a bowl and pour two cups of heavy cream, and powdered sugar in it
Whip it until stiff peaks appear at its surface.
Pour this cream over your bars, and spread it all across evenly.
Sprinkle some toasted coconut on it and cool it for a while.
Using a sling, pull the bars out of the dish, slice it with a sharp knife and serve!