Try this Chicken Parmesan Sliders recipe which is presenting a great combination of fried chicken tenders, tomato sauce, and lots of cheese!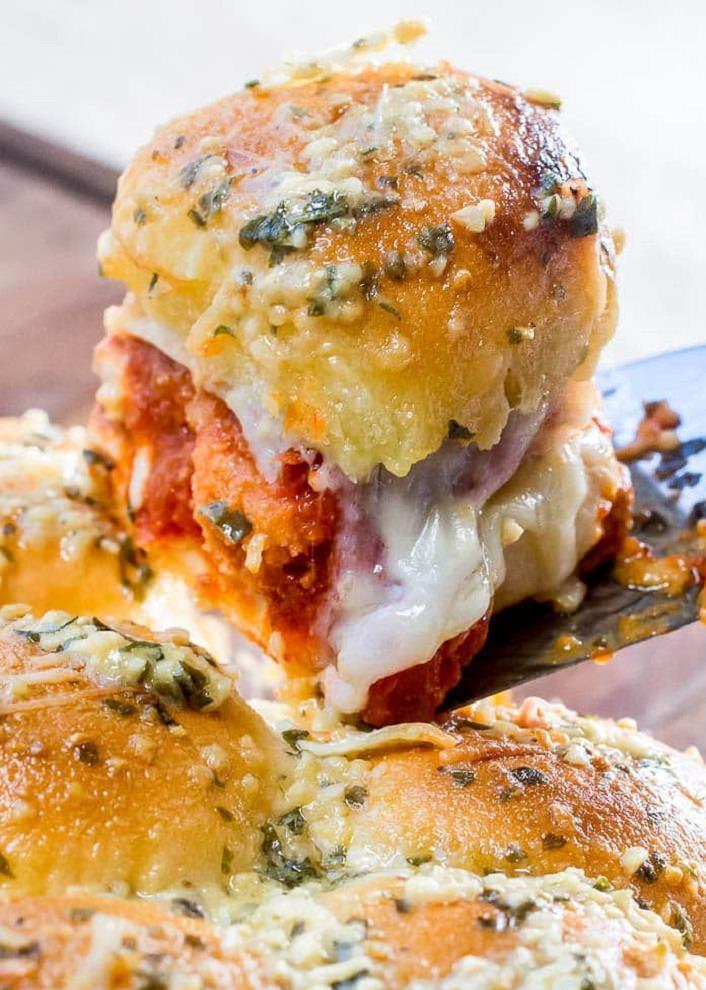 As soon as these Chicken Parmesan Sliders will come out of your oven, the sizzling smell of the melted garlic butter and tomato sauce wafting will make you reluctant to stop yourself from grabbing one bite of it!
The goodness of chicken tenders draped with mouthwatering mozzarella and parmesan cheese mixture makes this recipe extremely delicious. Moreover, the dressing of Italian herbs at its top imparts more flavors in it.
Serves: 4
Total Time: 45 minutes
Ingredients
16 Slider Buns
1 lb Breaded Chicken Tenders, cooked (weight is approx.)
2 c Pasta Sauce
2 c Mozzarella Cheese, shredded
½ c Parmesan Cheese, shredded
3 Tbsp butter, melted
1 tsp Garlic powder (more to taste)
1 tsp Italian seasoning
Preparation Instructions
Heat your oven at 350° F.
Now, take a greased baking sheet and keep the bottom half of the slider bun on it.
Cook the chicken tenders and pour it over the bottom bun.
Take a spoon of the sauce and drizzle it on the layer of chicken tender.
Mix the mozzarella and parmesan cheese, then sprinkle this mixture over the sauce puree.
Now, take the rest top part of the bun and keep it over the slider.
Keep the butter in the oven for melting it, then mix it with garlic powder.
Drizzle this melted butter over the buns and season some Italian herbs at its top.
Wrap this slider with a foil and bake it in the oven for 10-13 minutes.
Fetch the foil out of the slider, and bake again for another 10-13 minutes, until all the cheese melts up.
Sizzling chicken parmesan sliders are ready, serve it immediately.