This No-Bake Peanut Butter Pie recipe is quick to prepare and is going to prove an absolute delight for all the dessert lovers!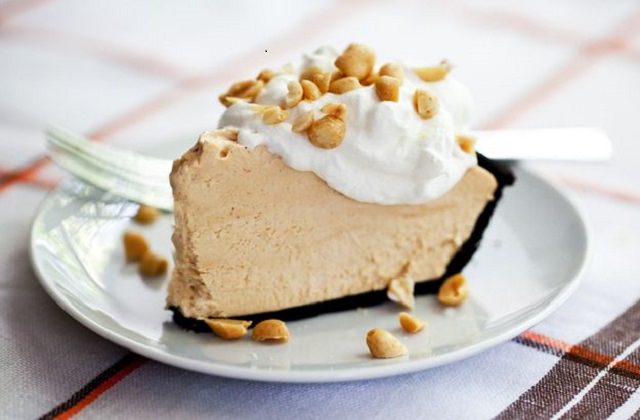 The mingling of cream cheese, peanut butter, vanilla extract, cool whip, and pie crusts offers this No-Bake Peanut Butter Pie a wonderful taste. Surprisingly, this luscious and creamy-textured pie needs a few minutes of preparations, although it needs to be chilled for some hours!
The crunchy crust comprising the flavor-filled mixture of vanilla, cream cheese, peanut butter and topped with chocolate syrup makes this dessert absolute heaven!
Prep time: 10 mins
Total time: 10 mins
Serves: 8
Ingredients
8 ounces cream cheese, softened
1 cup creamy peanut butter
1 cup confectioners sugar
¼ cup milk
1 teaspoon vanilla extract
2 (8 ounces) frozen cool whip, thawed
9-inch store-bought chocolate Oreo pie crust
Chocolate syrup for garnish, optional
Peanut butter chips for garnish, optional
Preparation Instructions
Using an electric mixer, whisk cream cheese, peanut butter, sugar, milk, and vanilla extract in a medium-sized bowl until it becomes enough creamy.
Add one spoon of the 8-ounce containers of cool whip and save the rest for serving.
Sprinkle the above-prepared batter onto the chocolate oreo pie crust.
Keep this pie in the refrigerator for at least 4 hours or overnight.
While serving, top it with the leftover cool whip.
Drizzle some chocolate syrup and peanut butter chips over it for enhancing its taste further and cheers!