Cheesy Southwest Chicken Soup Recipe accentuating the flavors of onions, peppers, black beans, and corn is the must-try recipe for every Mexican food lover!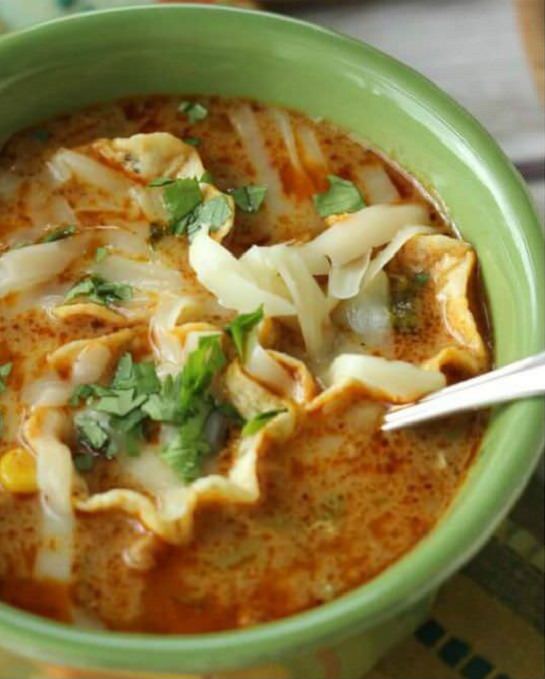 No food lovers will be able to stop themselves from having one sip of this creamy and cheesy chicken soup, as its sizzling aroma will disperse in the kitchen.
This creamy textured Cheesy Southwest Chicken Soup Recipe is fried with the black beans, chilies, and corn that takes its taste to the next level. Moreover, the dressing of tortilla chips, shredded cheese at its top adds a burst of flavor in its plain taste!
Total Time: 50 minutes
Ingredients:
Butter
Olive oil
Onion
Green bell pepper
Poblano
Green chiles
Chili powder
Cumin, divided
Flour
Chicken broth
Boneless skinless chicken breasts
Creole seasoning or seasoned salt
Heavy cream
Corn
Black beans
Topping: Shredded Jack cheese, cilantro or green onions
Tortilla chips
Preparation Instructions
Take a large-sized pan, pour the butter and olive oil in it and heat it over a medium to high flame.
Now, add some chopped onions and pepper into the pan.
Fry this for 10-minutes and sprinkle some chili powder as well as cumin into it.
Put some green chilies into this paste and fry it at high flame for a few minutes.
Add some flour into this mixture, and let it cook for 2-3 minutes.
Now, add broth into the pan, and keep stirring the paste until it gets boiled.
Add chicken, and toss some more chili powder, cumin and creole into it, then boil the content for another 10-15 minutes.
Now, bring the heat to the low flame and sprinkle some corns, black beans, and cream into this puree.
Cook for another 15 minutes, until you get the desired consistency.
Serve it instantly after dressing it with tortilla chips, shredded cheese, and cilantro!