Give your tastebuds a twist of spicy flavors by cooking this Cabbage Sauteed With Chicken recipe with the help of this article!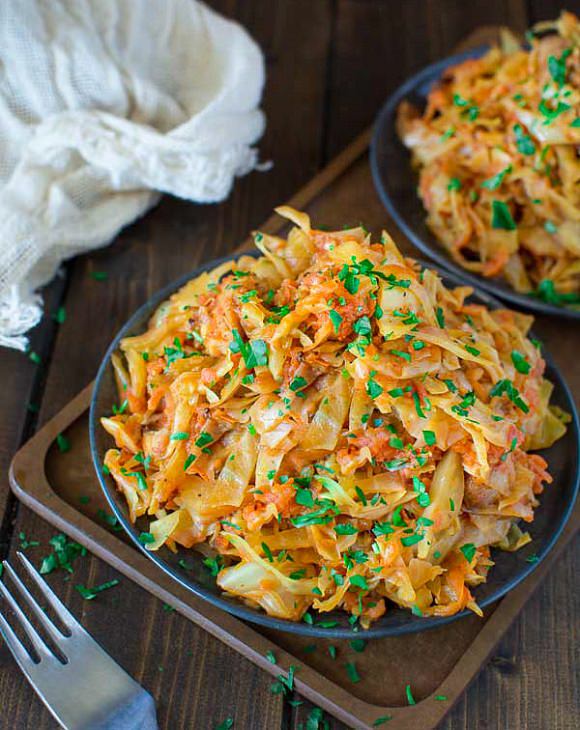 This Cabbage Sauteed with Chicken recipe can be a great way to cheer your family on any weekend. This dish is mainly prepared with shredded cabbage and chicken; also, some spices like paprika and bay leaves are added to give this chicken recipe a spicy nudge. So, exhibit your cooking skills by preparing this mouth-watering recipe and serving it with steamed rice or mashed potatoes after sprinkling some fresh chopped parsley over it.
Check Out Flavorful Anabolic Ice Cream Recipe

here!
---
Cabbage Sauteed With Chicken Recipe
Ingredients
3 tbsp olive oil
1/2 lb boneless chicken thighs, cut into small pieces
1 small cabbage
2 medium carrots (shredded)
3 tomatoes
2 bay leaves
1 cup chicken stock
salt
chopped fresh parsley to garnish
Prepare the Ingredients
Begin by slicing the chicken breasts or thighs into thin strips. Thinly slice the green cabbage and onion, and mince the garlic cloves. Grate the ginger and set aside the fresh cilantro or green onions for garnish.
Saute the Chicken
In a large skillet or wok, heat the vegetable oil over medium-high heat. Add the sliced chicken and cook until it turns golden brown and is cooked through. Season with salt and pepper to taste.
Add the Aromatics
Lower the heat to medium and push the chicken to one side of the skillet. Add the sesame oil to the empty side of the pan and saute the grated ginger and minced garlic until fragrant, about 1 minute.
Combine the Cabbage and Onion
Mix the sauteed chicken with the ginger and garlic. Add the thinly sliced green cabbage and onion to the skillet. Stir-fry the mixture until the cabbage softens and wilts yet retain some crunchiness.
Flavorful Finish
Drizzle the soy sauce and oyster sauce over the cabbage and chicken. Stir everything together to coat the ingredients evenly with the savory and umami-rich sauces. Continue cooking for another minute to allow the flavors to meld.
Check Out Easy El Chico Brownie Skillet Recipe

here!
---
Things to Remember While Preparing Cabbage Sauteed With Chicken 
Feel free to add other vegetables, like bell peppers or carrots, to enhance the color and nutrition of the dish.
To retain the cabbage's crispiness, avoid overcooking it. Aim for a balance between tenderness and a slight crunch.
Transfer the Cabbage Sauteed with Chicken to a serving dish and garnish with fresh cilantro or green onions for an appealing touch.
Pro Tip: This dish pairs wonderfully with steamed rice or noodles, making it a delightful and satisfying meal. Enjoy the flavors of this Cabbage Sauteed with Chicken recipe that combines the goodness of vegetables and tender protein in every delightful bite.
Check Out Delectable Bartaco Margarita Recipe

here!