If you are a cooking lover mom and want to surprise your kids with a crunchy and spicy dish, then this healthy baked chicken nuggets recipe is for you!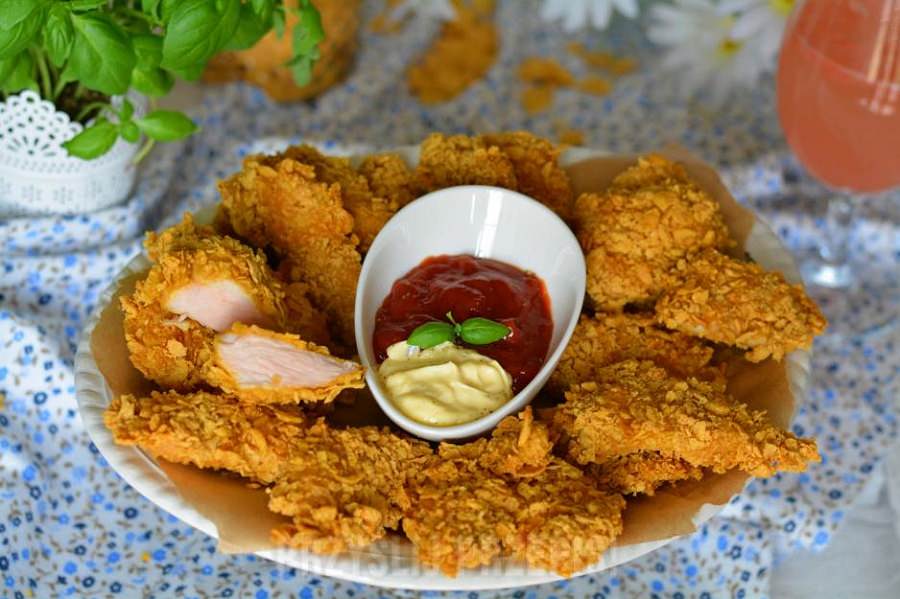 Give your tongue a spicy treat of Healthy Baked Chicken Nuggets that is prepared by baking the chunks wrapped under spices in the oven. This chicken chunks recipe is super fast as well as super easy as they are prepared within half an hour. Once baked, serve these crispy nuggets with tomato ketchup!
Prep Time: 15 minutes
Cook Time: 20 minutes
Total Time: 35 minutes
Ingredients
1 pound boneless skinless chicken breast 450g
1 cup flour 120g
Two teaspoons ground paprika
Two teaspoons salt
1/2 teaspoon ground black pepper
Two large eggs
1 cup bread crumbs 90g
Oil spray
Preparation Instructions
Heat the oven at 400° F temperature and keep a pan in the oven.
Take the eggs in any bowl, and whisk them up until it gets beaten up.
Cut the small chunks of the chicken and put it in the large Ziploc bag containing salt, pepper, and other spices.
Close its zip and shake well, so as to coat all the chunks with the layer of spices.
Now, take the chunks out and shred off the excess flour.
Dip all the pieces into the beaten egg paste and coat them with the breadcrumbs layers.
Now, fetch the pan out of the oven and spray it with butter or oil.
Place the chunks into the pan and bake them in the oven for 10-12 minutes until it turns crispy.
Your sizzling chicken nuggets are ready to serve!
Note: You can use crushed cornflakes instead of breadcrumbs for making it more crunchy.