This Easter, surprise everyone by preparing this The Very Best Carrot Cake that is layered with creamy frosting and lots of chopped pecans!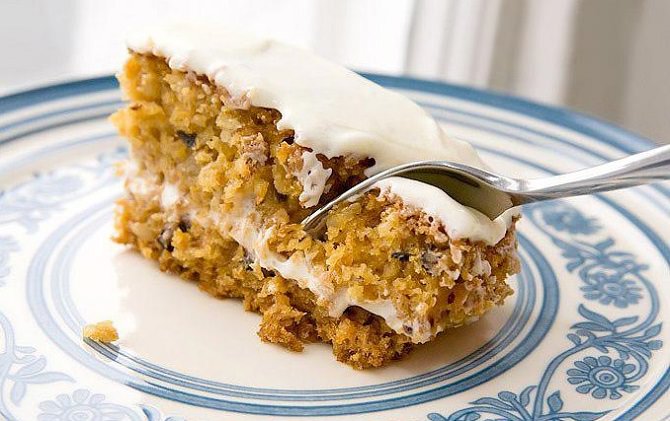 If you are bored by preparing the same kind of cakes and searching for a special cake recipe that is unique in flavor and texture, The Very Best Carrot Cake recipe is undoubtedly going to top in your cake recipes list!
Here, grated carrots are mixed with two different batters and are baked in the oven. Then these cakes are double-coated with a cloud of creamy frosting. And finally, it is garnished by pressing some crushed pecans upon its frosting layer!
Ingredients
4 eggs
1¼ cups of vegetable oil
2 cups of sugar
2 teaspoons vanilla extract
4 cups confectioners sugar
2 cups all-purpose flour
½ teaspoon salt
2 teaspoons baking soda
2 teaspoons baking powder
½ cup butter
2 teaspoons ground cinnamon
3 cups freshly grated carrots
3-4 cups chopped pecans – optional
Cream Cheese Frosting
8 oz cream cheese
1 teaspoon vanilla extract
Preparation Instructions
Heat the oven at 350° F, then apply a layer of grease and flour on cake pans and keep it aside.
Peel and mince the carrots using the food processor.
Take a large bowl, pour eggs, sugar, oil, and vanilla extract into it and blend thoroughly.
Take another bowl, then stir and blend flour, baking soda, baking powder, cinnamon, and salt in it.
Mix both the above-prepared mixture and pour the grated carrots in it.
Put the batter in the preheated pans and heat it in the oven for 30-40 minutes.
Insert the toothpick in the middle and if it comes out clean, your cake is ready.
Move them onto a wire rack and leave them to cool.
You can even wrap them in a plastic wrap and store them in the refrigerator for later use.
Prepare its frosting by mixing butter with cream cheese and whisk them until becomes fluffy enough.
Gradually pour confectioners sugar, salt, and vanilla extract in it and blend thoroughly.
Top each cake round with one cup of frosting. Then, apply a thin layer of frosting at the surface of the cake.
Freeze these cakes for half an hour in a freezer.
Again, apply the remaining frosting over it and stick some chopped pecans around the cake.
Now, refrigerate and serve it chilled!