Cook these delicious buffalo cauliflower bites for a healthy snack! They're crispy, perfect for friends gatherings as well as makeup for a great evening delight!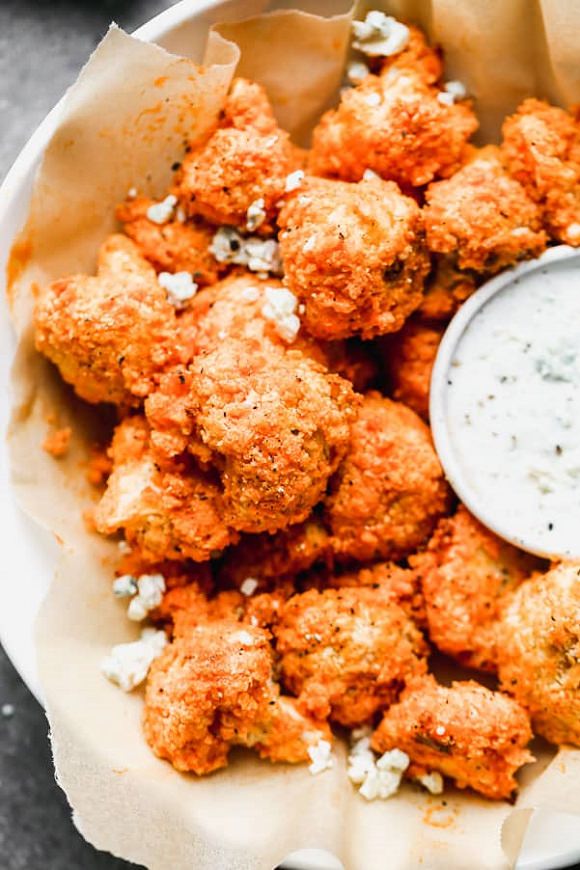 Buffalo Cauliflowers are delicious, crispy and healthy as they're baked. Filled with buffalo sauce and pepper, they're truly a tasty snack delight. It is ideal for family gatherings and a perfect surprise for your kids!
Ingredients:
1 cup milk
1 cup flour
1 teaspoon garlic powder
pepper to taste
1 tablespoon olive oil
1 head of cauliflower
2/3 cup Panko breadcrumbs
2/3 cup buffalo sauce
Preparation Instructions
Preheat the oven to 450°F.
Finely dice the cauliflower in equal bite-size pieces
Take a large bowl and add milk, flour, garlic powder, olive oil and pepper in it. Mix the batter well and properly mix the cauliflower bites.
Strain excess batter and place the cauliflower bites in the baking dish. Sprinkle over breadcrumbs and let it bake for 15 minutes.
Transfer the baking dish from the oven, toss the cauliflower with buffalo sauce and bake it again for 5 minutes. It'll make the bites crispier!
Your oven baked buffalo cauliflower bites are ready, just serve them with blue sauce!