Learn how to make a white Chocolate Blueberry Lasagna that can become a great dessert recipe for any special occasion!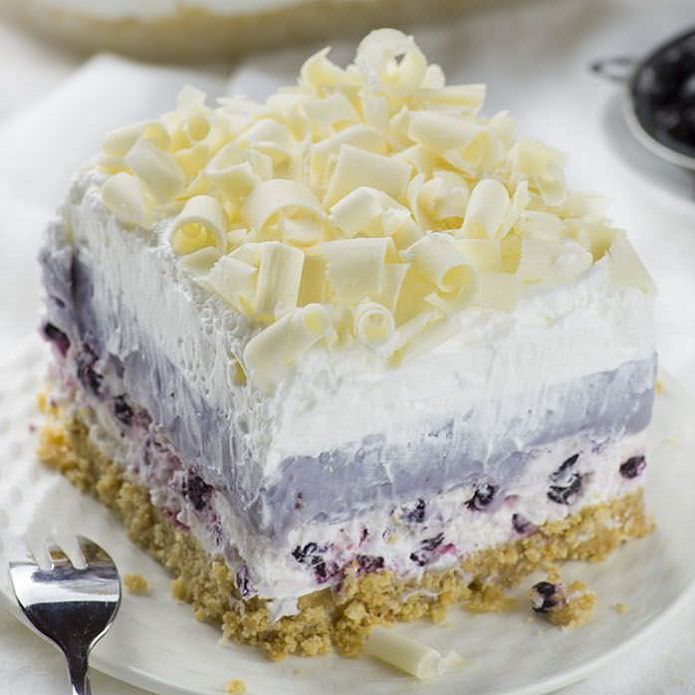 What a great combination of all the delightful flavors in one multi-layered cake that is lusciously topped with a clod of chocolate curl and cool whips.
In this case, the crunchy layer of oreo crust is made at the bottom, followed by a layer of cream cheese, blueberries, and white chocolate mixture. Finally, a casting of dried, frozen blueberries, cool whip, and chocolate chips makes this cake heavenly delicious beyond anyone's imagination!
Ingredients
For the Crust:
36 Golden Oreo cookies (whole cookies with filling)
6 tablespoon unsalted butter-melted
For Cream Cheese Layer:
8 oz. cream cheese-softened
1/2 cup unsalted butter softened
1 cup powdered sugar
1 ¼ cup Cool Whip
1 to 1 ½ cup blueberries fresh or thawed (I used 1 ¼ cup frozen wild blueberries)
For Pudding Layer:
2 – 3.9-ounce packages White Chocolate Instant Pudding
3 cups cold milk
2 oz. freeze-dried blueberries- powder (pulse blueberries in a food processor to make the powder)
For Topping:
1 ½ cup Cool Whip
white chocolate bar to make the curls (or sprinkle with 1 ½ cups white chocolate chips)
Preparation Instructions
Grind the oreo cookies in a food processor to get the fine crumbs.
In a bowl, mix these crumbs with melted butter.
Apply a layer of this mixture at the bottom of a large-sized dish and keep it in the refrigerator.
Take a medium-sized bowl, pour cream cheese, butter, and granular sugar. Whisk them well, then add some cool whip and blueberries in this batter.
Now, make a second layer of this mixture at the top of the first layer in the dish.
Take a medium-sized bowl, mix white chocolate instant pudding and cold milk in it. Mix everything until the batter gets the right consistency.
Garnish it with some frozen, dried blueberries and cream cheese layer at its top.
Keep it in the freezer to set and chill.
Make its final topping with cool whip and chocolate chips.
Again refrigerate it for 4 hours at least and serve this chilled delight!