The delicious combination of chocolate and peanut butter make this Chocolate Peanut Butter Ooey Gooey Butter Cake truly heaven!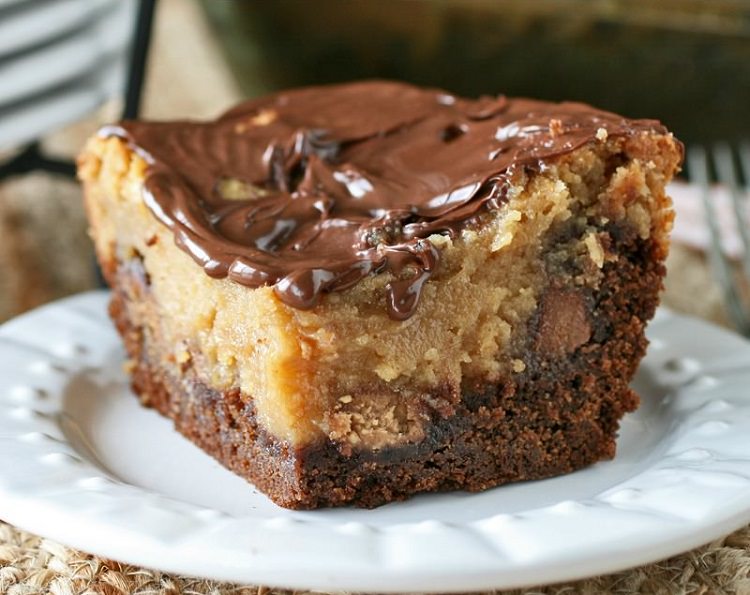 These Chocolate Peanut Butter Ooey Gooey Butter Cakes filled with extra chocolate and peanut butter is a perfect recipe to cheer the guests on any special occasion or to surprise your kids on any lazy weekend!
What makes this cake a true delight is the addition of cheesy buttercups and chopped Butterfinger Candy Bars in the cake mixture. The topping of melted chocolate in combination with a layer of gooey buttercream dwelling on this heavenly cake is going to give your taste bud an unforgettable smack of flavors!
Serves: 8 – 10
Recipe type: Cake, dessert
Prep time: 20 mins
Cook time: 50 mins
Total time: 1 hour 10 mins
Ingredients
Cake
1 German Chocolate Cake Mix
½ cup butter – melted
1 egg
2nd Layer
8 Peanut Butter Cups – the large one
3 small Butterfinger Candy Bars
Cream Cheese Layer
1 (8-ounce) package cream cheese, softened
1 cup peanut butter
3 eggs
1 teaspoon vanilla
½ cup butter, melted
4 cups confectionery sugar
Chocolate topping
½ cup of chocolate chips
1 tablespoon vegetable or canola oil
Preparation Instructions
Heat the oven at 350° F, alternatively keep its temperature at 325° F while preferring a glass pan.
Take the cake mix, egg, butter in a bowl, and blend it thoroughly.
Take a large-sized pan, spray it with cooking spray, then pour this mixture in the bottom of the pan in the form of layers.
Divide the peanuts butter cups into four parts, and chop down the butterfingers Candybar, then sprinkle these flavorings over the cake layer.
Pour the cream cheese, vanilla, egg, butter, and peanut butter in a large bowl and mix them properly. Once all the ingredients are mixed thoroughly, add the above-described sugar in it.
Spread this batter over the candy bar layer uniformly.
Now, put this preparation in the oven, and heat it for around 50-55 minutes depending upon the material of the pan you used.
As the mixture will be done, it will become puffy from the center, then remove it from the oven and leave it to cool.
Melt the chocolate chips by keeping it in the microwave for one minute.
Use this melted chocolate to make the topping of the cream cheese layer.
Your delicious chocolate peanut butter cake is ready to be served!
Note: These cakes are dense enough, the baking time may vary from oven to oven. For instance, if you are baking it in a glass pan, preheat the oven at 325° F.