Strawberry Crunch Pound Cake is a Sweet Slice of Tradition. Try out this amazing recipe and add the flavor of a goodie treat.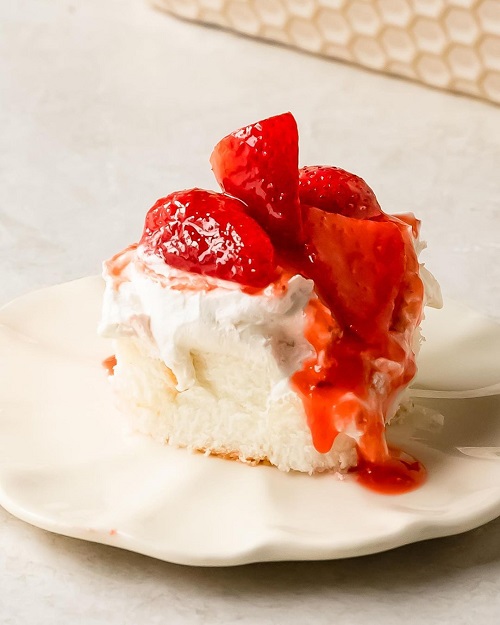 Strawberry Crunch Pound Cake is a beloved dessert that marries the timeless elegance of a classic pound cake with the vibrant, fruity delight of fresh strawberries. This delightful confection has graced family gatherings, potlucks, and special occasions for generations, earning its place as a cherished treat.
---
Origin of Strawberry Crunch Pound Cake
The roots of Strawberry Crunch Pound Cake can be traced back to the heartland of the United States, where homebakers first began experimenting with adding fresh strawberries to the traditional pound cake recipe. The idea was simple yet brilliant: incorporate strawberries' sweet, juicy essence into the dense, buttery pound cake for a burst of flavor and moisture. Over time, this concept evolved to include a crunchy topping that perfectly complements the cake's tender crumb. Today, Strawberry Crunch Pound Cake remains a testament to the creativity and ingenuity of home bakers, offering a delightful taste of tradition.
Try Out Strawberry Cheesecake Cookies Recipe

here
---
Strawberry Crunch Pound Cake Recipe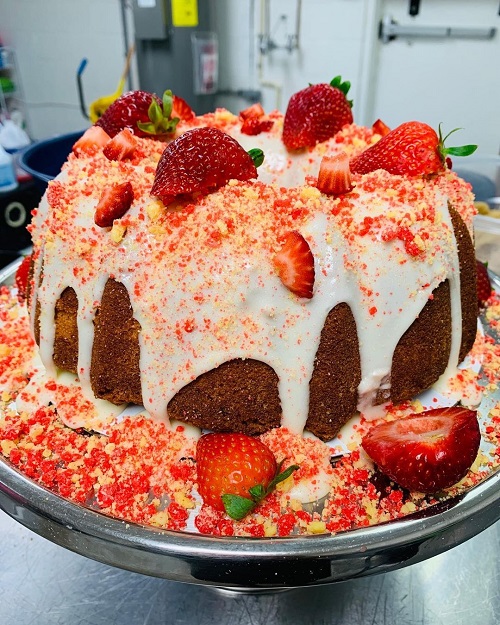 Ingredients
1 cup (2 sticks) of unsalted butter, softened
2 cups of granulated sugar
4 large eggs
3 cups of all-purpose flour
1/4 teaspoon of baking soda
1/2 teaspoon of salt
1 cup of sour cream
2 teaspoons of pure vanilla extract
1 1/2 cups of fresh strawberries, hulled and chopped
1/2 cup of crushed vanilla wafer cookies
1 cup of chopped pecans
Strawberry glaze or icing (optional)
Cream the Butter and Sugar
In a large mixing bowl, cream the softened butter and granulated sugar until light and fluffy, typically for about 3-5 minutes.
Add Eggs and Vanilla
Add the eggs one at a time, mixing well after each addition. Stir in the vanilla extract.
Combine Dry Ingredients
Whisk together the flour, baking soda, and salt in a separate bowl. Gradually add this dry mixture to the wet mixture, alternating with the sour cream. Begin and end with the dry ingredients.
Add Strawberries and Crunchy Topping
Gently fold the chopped strawberries, crushed vanilla wafer cookies, and chopped pecans.
Bake to Perfection
Pour the batter into a greased and floured Bundt pan. Bake in a preheated oven at 160°C for approximately 1 hour and 15 minutes. Check until a toothpick inserted into the cake comes clean. Allow the cake to cool in the pan for about 15 minutes. Then, transfer it to a wire rack to cool completely. Optionally, drizzle with strawberry glaze or icing.
Check Out Triple Delight Chinese Food

here
---
Things to Remember While Preparing Strawberry Crunch Pound Cake
Ensure that your butter, eggs, and sour cream are at room temperature for a smoother batter.
Be mindful not to over-chop the strawberries; small, uniform pieces work best.
The combination of crushed vanilla wafers and pecans adds delightful texture and flavor.
Grease and flour the Bundt pan thoroughly to prevent sticking.
Store your Strawberry Crunch Pound Cake in an airtight container at room temperature for up to three days or refrigerate for longer freshness.
Strawberry Crunch Pound Cake is a testament to home bakers, capturing the essence of tradition and innovation in one delightful dessert. With the sweet aroma of fresh strawberries, the comforting richness of a pound cake, and the satisfying crunch of vanilla wafers and pecans, this dessert promises a slice of nostalgia and a moment of pure indulgence.
Check Out Arby's Bronco Berry Sauce

here
---
Frequently Asked Questions
1: Can I use frozen strawberries?
Fresh strawberries are recommended for the best flavor, but you can use frozen ones in a pinch.
2: Can I omit the pecans?
Certainly, you can omit the pecans, substitute them with another nut of your choice, or leave the cake nut-free.
3: Can I make this cake without a Bundt pan?
You can use a standard cake pan, adjusting the baking time. Keep a close eye on it and perform the toothpick test to determine doneness.
4: Is the strawberry glaze necessary?
The glaze is optional but adds an extra layer of strawberry sweetness. You can also use a simple powdered sugar and milk glaze if preferred.
5: Can I freeze this cake?
You can freeze Strawberry Crunch Pound Cake for up to three months. Wrap it tightly in plastic wrap and aluminum foil before freezing.
Check Out Tasty Bronco Berry Sauce

here