Discover the delicious flavors of the Santa Fe soup recipe– a hearty Southwestern dish packed with beans, vegetables, and spices. Try it today!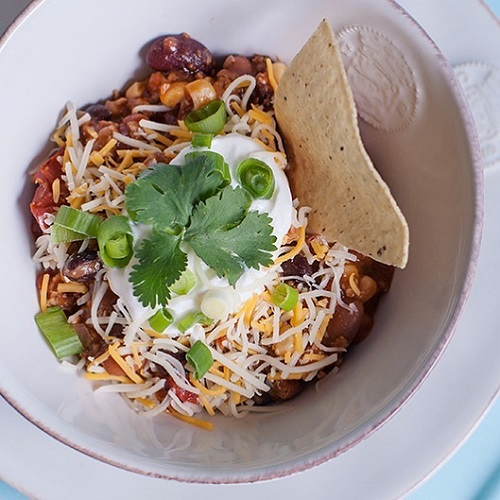 Santa Fe Soup embodies the rich and vibrant flavors of the American Southwest. With its hearty combination of beans, spices, and tender chunks of chicken, this soup is a comforting bowl of culinary artistry. Let's explore this delectable recipe and invite you to savor the warmth and flavors of Santa Fe in your own kitchen.
---
Origin of Santa Fe Soup
Santa Fe Soup draws its inspiration from the culinary traditions of the American Southwest, specifically the city of Santa Fe in New Mexico. This region is renowned for its unique blend of Mexican and Native American influences. It resulted in a cuisine that's bursting with flavors and colors. Santa Fe Soup showcases the essence of this culinary heritage, combining ingredients like beans, chili peppers, and spices to create a dish that's both hearty and soul-satisfying.
Check Out Mastro's Butter Cake Recipe

here
---
Santa Fe Soup Recipe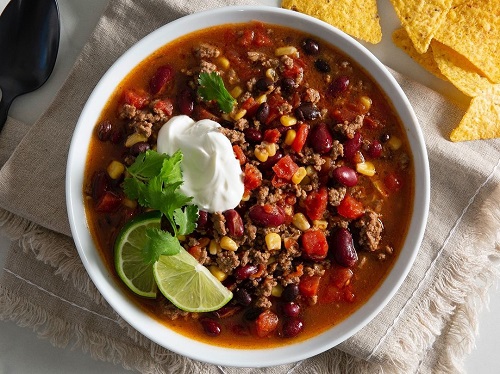 Ingredients
For the Soup:
Boneless, skinless chicken breasts, cubed.
1 tablespoon of olive oil.
2 onion, diced.
1 cloves of garlic, minced.
1 can of black beans, drained and rinsed.
1/2 can of pinto beans, drained and rinsed.
1 can of diced tomatoes, undrained.
4 diced green chilies.
1 cup of frozen corn kernels.
4 cups of chicken broth.
1 teaspoon of ground cumin.
1/2 teaspoon of chili powder.
Salt and black pepper to taste.
Optional toppings: shredded cheese, sour cream, chopped cilantro, and tortilla strips.
Now, let's proceed with the step-by-step preparation.
Sauté the Chicken
In a large pot, heat the olive oil over medium-high heat. Add the cubed chicken and cook until it's no longer pink about 5 minutes. Remove the chicken from the pot and set it aside.
Sauté the Aromatics
In the same pot, add the diced onion and minced garlic. Sauté for about 3 minutes until the onion becomes translucent.
Add the Beans and Spices
Return the cooked chicken to the pot. Add the black beans, pinto beans, diced tomatoes, diced green chilies, and frozen corn. Stir in the ground cumin, chili powder, salt, and black pepper.
Simmer
Pour in the chicken broth and stir well. Bring the mixture to a boil, reduce the heat to low, cover, and simmer for about 30 minutes.
Serve and Garnish
Ladle the Santa Fe Soup into bowls. Top each serving with shredded cheese, a dollop of sour cream, chopped cilantro, and tortilla strips if desired.
Check Out Anabolic French Toast

here
---
Things to Remember While Preparing Santa Fe Soup Recipe
If you prefer more heat, add extra chili powder or diced jalapeños.
Feel free to experiment with different bean varieties to suit your taste.
Save time by using pre-cooked rotisserie chicken and adding it in Step 3.
This soup freezes well, making it perfect for meal prep. Thaw and reheat as needed.
Homemade or store-bought tortilla strips add a delightful crunch to your soup.
Read About the Cinnabon Delights Recipe

here
---
Frequently Asked Questions
1: Can I use canned chicken instead of fresh chicken breasts?
While fresh chicken is recommended for better flavor and texture, canned chicken can be used as a convenient alternative.
2: Is Santa Fe Soup vegetarian-friendly?
You can easily make a vegetarian version by omitting the chicken and using vegetable broth.
3: What's the best way to store leftovers?
Refrigerate leftovers in an airtight container for up to 3 days or freeze for longer storage.
4: Can I make this soup in a slow cooker?
Absolutely! Cook the chicken and onions in a skillet, then transfer everything to a slow cooker and cook on low for 6-8 hours.
5: Can I use fresh tomatoes instead of canned diced tomatoes?
Yes, you can use fresh diced tomatoes. However, canned tomatoes are more convenient and consistent.
Santa Fe Soup is a delightful journey through the flavors of the American Southwest. Whether you're a fan of Southwestern cuisine or simply seeking a comforting and satisfying meal, this soup is a flavorful choice. Enjoy the warmth and richness of this dish as you savor the spirit of the Southwest from your own kitchen.
Check Out Honey Bun Cheesecake

here