Explore the delicious Pappadeaux Pasta Mardi Gras – a flavorful Cajun-inspired dish bursting with vibrant flavors and festive flair!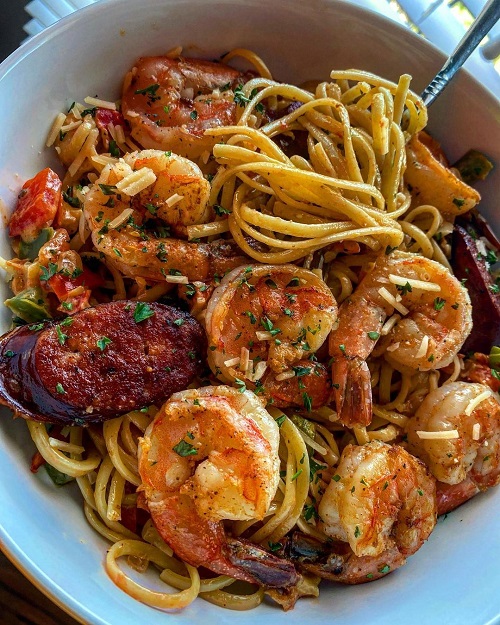 This is a delectable and vibrant dish that brings the spirit of Mardi Gras straight to your plate. This Cajun-inspired pasta is a burst of flavors and colors, featuring succulent shrimp, spicy andouille sausage, and a symphony of vegetables, all tossed together with perfectly cooked pasta. Let's dive into the origins of this mouthwatering Pappadeaux Pasta Mardi Gras Recipe and savor a taste of Mardi Gras right at your dining table.
---
Origin of the Pappadeaux Pasta Mardi Gras
Pappadeaux's, a renowned seafood and Cajun restaurant chain is the birthplace of Pasta Mardi Gras. Mardi Gras, a vibrant and festive celebration in New Orleans, inspired this dish. Pappadeaux's chefs wanted to capture the essence of Mardi Gras in a single dish, and thus, Pasta Mardi Gras was born. This recipe combines the bold and diverse flavors of Cajun cuisine with the colorful, celebratory spirit of Mardi Gras, making it a favorite among both locals and visitors.
Check Out the Maple Nut Goodies Recipe

here
---
Pappadeaux Pasta Mardi Gras Recipe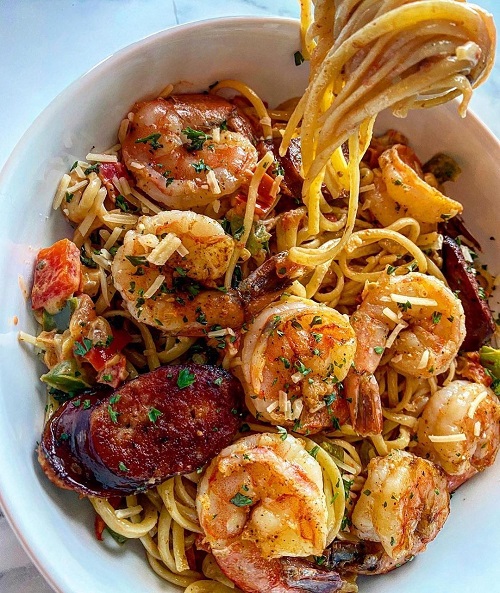 Ingredients
For the Pasta:
8 ounces of linguine pasta.
7 large shrimp, peeled and deveined.
4 ounces of andouille sausage, sliced.
1 cup of diced bell peppers (red, green, and yellow).
1/2 cup of diced red onion.
2 cloves of garlic, minced.
1/2 cup of diced tomatoes.
1/4 cup of chicken broth.
2 tablespoons of olive oil.
1 tablespoon of Cajun seasoning.
Salt and black pepper to taste.
Fresh parsley for garnish.
Cook the Linguine
Boil a large pot of salted water. Cook the linguine according to the package instructions until al dente. Drain the pasta and set it aside.
Sauté the Shrimp and Sausage
In a large skillet, heat 1 tablespoon of olive oil over medium-high heat. Add the shrimp and andouille sausage and sprinkle with Cajun seasoning. Sauté for about 3-4 minutes. Check until the shrimp turn pink and the sausage is slightly browned. Remove the shrimp and sausage from the skillet and set them aside.
Sauté the Vegetables
In the same skillet, add another tablespoon of olive oil. Add the diced bell peppers, red onion, and garlic. Sauté for about 3 minutes until the vegetables start to soften.
Combine and Simmer
Return the cooked linguine to the skillet with the sautéed vegetables. Add the diced tomato chicken broth. Then add cooked shrimp and sausage. Gently toss everything together and simmer for 2-3 minutes until heated.
Serve and Garnish
Season the pasta with salt and black pepper to taste. Serve your Pasta Mardi Gras in individual plates or a large serving dish. Garnish with fresh parsley for a burst of color and flavor.
Check Out Buffalo Wild Wings Potato Wedges

here
---
Things to Remember While Preparing Pappadeaux Pasta Mardi Gras
Adjust the amount of Cajun seasoning to suit your spice preference. You can always add more for extra heat.
Feel free to customize the vegetable mix by adding okra, celery, or colorful veggies you enjoy.
For the best taste and texture, opt for fresh shrimp. If using frozen shrimp, thaw them thoroughly.
Be mindful not to overcook the linguine; it should be al dente to retain its texture.
Pappadeaux often serves this dish with warm and crusty bread – a perfect accompaniment.
Pappadeaux's Pasta Mardi Gras is a celebration of flavors and a testament to the lively spirit of Mardi Gras. Whether hosting a festive gathering or simply craving a taste of New Orleans, this recipe will satisfy your culinary cravings. Enjoy your Pasta Mardi Gras, and let the good times roll!
Check Out the Walk Me Down Drink Recipe

here
---
Frequently Asked Questions- Pappadeaux Pasta Mardi Gras
1: Can I use a different type of pasta?
You can use your favorite pasta variety if you prefer something other than linguine.
2: Is there a vegetarian version of this recipe?
You can create a vegetarian version by omitting the shrimp and sausage. Add extra vegetables or tofu for protein.
3: What makes the Cajun seasoning unique?
Cajun seasoning typically contains a blend of spices like paprika and cayenne pepper. Then, add garlic powder and onion powder, giving it a distinctive spicy flavor.
4: Can I make this dish in advance?
While it's best enjoyed fresh, you can prepare the components separately. Assemble them just before serving to maintain the best texture and flavor.
5: Is this dish very spicy?
The level of spiciness depends on the amount of Cajun seasoning you use. You can adjust it to your taste.
Check Out the Cinnabon Delights Recipe

here