Mastro's Butter Cake Recipe is a legendary dessert that has captured the taste buds of diners worldwide. Try this exotic recipe now!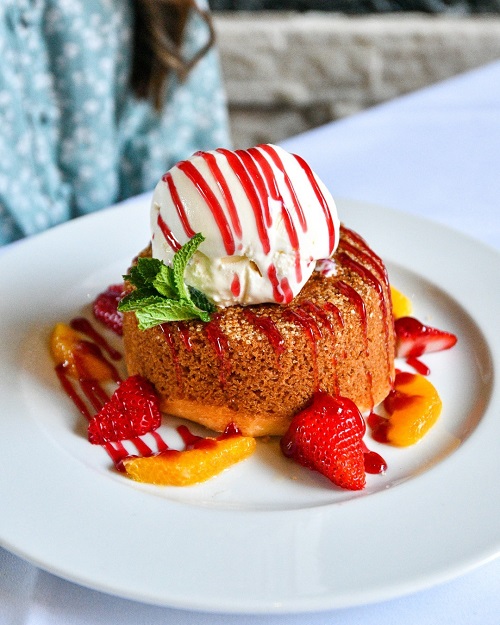 The Mastro's Butter Cake Recipe is a rich and decadent dessert characterized by its buttery, moist cake layer and a sweet, gooey topping guaranteed to satisfy your sweet tooth. Let's explore the step-by-step preparation process and savor this mouthwatering dessert.
---
Origin of the Mastro's Butter Cake Recipe
This dessert is traced back to Mastro's Steakhouse, a popular chain of upscale steakhouses in major cities across the United States. This dessert quickly became a beloved signature item on the restaurant's menu, renowned for its irresistible textures and flavors. While the specific history of the recipe within Mastro's remains a closely guarded secret, what is clear is that it has become an iconic dessert in American dining, celebrated for its unparalleled taste and indulgence.
Check Out Strawberry Crunch Pound Cake

here
---
Mastro's Butter Cake Recipe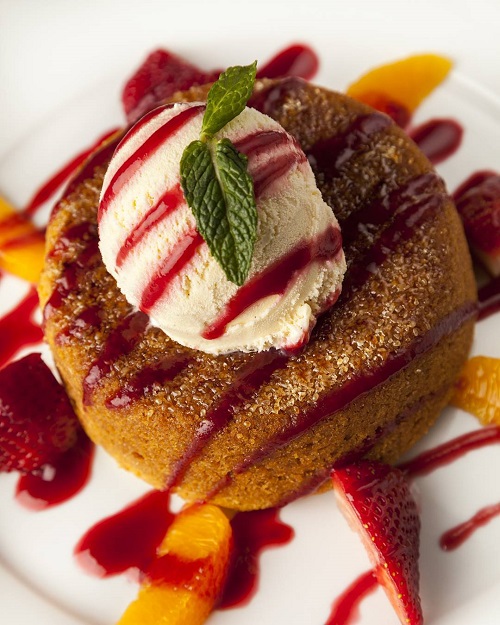 Ingredients
1 cup all-purpose flour
1/2 cup granulated sugar
1/4 teaspoon baking powder
1/2 teaspoon salt
1 cup unsalted butter, softened
1/2 cup heavy cream
1 cup sour cream
2 large eggs
1 teaspoon pure vanilla extract
For the Topping
1 cup granulated sugar
2 cups unsalted butter, melted
1/2 cup heavy cream
1 teaspoon pure vanilla extract
Preheat and Prepare
Preheat your oven to 160°C. Grease a 9×9-inch square baking pan.
Mix the Dry Ingredients
In a mixing bowl, combine the all-purpose flour, granulated sugar, and baking powder. Then add salt. Mix these dry ingredients until well incorporated.
Cream the Butter
In another bowl, cream together the softened unsalted butter and heavy cream. Add sour cream, eggs, and vanilla extract until smooth and creamy.
Combine Wet and Dry
Gradually add the dry ingredients to the wet mixture. Mix until you have a smooth batter.
Bake
Pour the batter into the greased baking pan. Ensure to spread it evenly. Bake for approximately 45-50 minutes. Check until the top is golden brown and a toothpick inserted into the center comes clean.
Check Out Jamaican Chicken Soup Recipe

here
---
Things to Remember
Ensure that the butter and eggs are at room temperature for smoother mixing.
Cream the butter and wet ingredients until they are combined. Ensure they have a creamy texture.
Allow the cake to cool slightly before serving. It's best enjoyed warm.
Adjust the thickness of the topping to your liking. You can vary the amount of heavy cream added.
Get creative by adding a scoop of vanilla ice cream or fresh berries when serving.
Mastro's Butter Cake Recipe is a masterpiece that has captured the hearts of dessert lovers nationwide. Whether you've enjoyed savoring it at Mastro's Steakhouse or are embarking on a homemade adventure, this dessert is a testament to the harmonious blend of buttery richness and sweet indulgence.
Discover Cookie Monster Cinnamon Rolls

here
---
Frequently Asked Questions
Can I make this dessert in advance?
Yes, you can bake the cake in advance and reheat it before serving. The topping can be prepared separately and added when serving.
Can I use salted butter?
It's best to use unsalted butter to control the saltiness of the dessert.
What's the best way to reheat leftovers?
You can reheat individual slices in the microwave for a few seconds. Or, you can warm them in the oven.
Can I substitute sour cream with Greek yogurt?
Yes, Greek yogurt can be used as a substitute for sour cream in this recipe.
Is this cake gluten-free?
No, this cake contains all-purpose flour and is not gluten-free.
Here's

Tex Mex Paste Recipe