Indulge in the sweet delight of Honey Bun Cheesecake – a delectable fusion of honey and creamy cheesecake. Discover the perfect dessert today!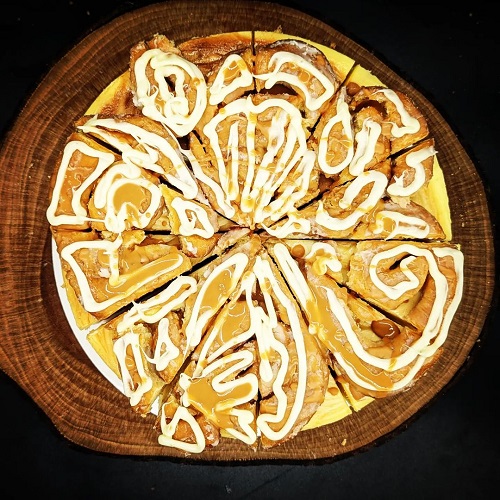 Honey Bun Cheesecake is a dessert that combines the irresistible flavors of a honey bun with the creamy richness of cheesecake. This delightful treat is a favorite at potlucks, family gatherings, and any occasion where you want to impress with a sweet, comforting dessert.
---
Origin of Honey Bun Cheesecake
The origin of Honey Bun Cheesecake can be traced back to the inventive world of home bakers and dessert enthusiasts. Drawing inspiration from the classic honey bun pastry, which is loved for its sweet, cinnamon-spiced goodness, and the beloved cheesecake, famous for its creamy texture and versatility, this dessert is a delightful fusion of flavors and textures. While its exact origin remains uncertain, it has quickly become a cherished recipe among those who appreciate the harmony of sweet cinnamon swirls and velvety cheesecake.
Try Out Arby's Bronco Berry Sauce

here
---
Honey Bun Cheesecake Recipe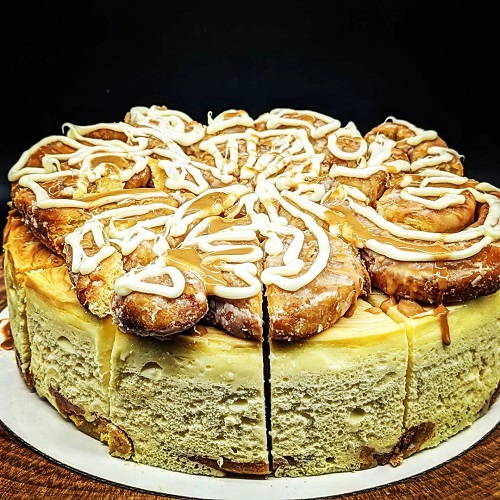 Ingredients
For the Crust:
1 ½ cups graham cracker crumbs
¼ cup granulated sugar
½ cup unsalted butter, melted
For the Cheesecake Filling:
24 ounces cream cheese, softened
1 cup granulated sugar
3 large eggs
2 teaspoons vanilla extract
1 tablespoon all-purpose flour
For the Cinnamon Swirl:
½ cup brown sugar, packed
1 ½ teaspoons ground cinnamon
For the Glaze:
1 cup powdered sugar
2 tablespoons milk
½ teaspoon vanilla extract
Prepare the Crust
Preheat your oven to 160°C. Combine graham cracker crumbs, sugar, and melted butter in a bowl. Press this mixture into the bottom of a greased 9-inch springform pan. It will create the crust. Set aside.
Make the Cheesecake Filling
In a large mixing bowl, beat the softened cream cheese until smooth. Gradually add sugar, eggs, and vanilla extract. Then add flour and beat until well combined. Pour this creamy mixture over the prepared crust.
Create the Cinnamon Swirl
In a small bowl, mix brown sugar and ground cinnamon. Sprinkle this mixture evenly over the cheesecake filling.
Swirl and Bake
Use a knife or a toothpick to swirl the cinnamon mixture into the cheesecake filling gently. This will create a marbled effect. Bake in the oven for 45-50 minutes. Check until the cheesecake is set but slightly jiggly in the center.
Add the Glaze and Chill
Remove the cheesecake from the oven. Let it cool at room temperature for 10 minutes. Whisk together powdered sugar and milk. Add vanilla extract in a separate bowl to create the glaze. Drizzle the glaze over the slightly cooled cheesecake. Refrigerate for at least 4 hours or overnight before serving.
Check Out Tasty Bronco Berry Sauce

here
---
Things to Remember
Ensure your cream cheese is softened to room temperature for a smooth filling.
Mix the cheesecake filling until combined to prevent overmixing, which can lead to cracks.
Let the cheesecake cool gradually after baking to prevent cracking.
Refrigerate your cheesecake for several hours or overnight for the best texture.
Use a sharp knife or toothpick to create a beautiful cinnamon swirl effect.
Explore Tex Mex Paste Recipe

here
---
Frequently Asked Questions
1: Can I use a pre-made graham cracker crust?
Yes, you can use a store-bought graham cracker crust for convenience.
2: Can I make this cheesecake ahead of time?
Yes, it can be made a day in advance and stored in the refrigerator until ready to serve.
3: Can I freeze Honey Bun Cheesecake?
Yes, it can be frozen without the glaze. Thaw in the refrigerator before adding the glaze and serving.
4: Can I use a different type of glaze?
Yes, you can experiment with different glazes like maple or cream cheese.
5: Can I add nuts or raisins to the cinnamon swirl?
Certainly, you can customize the cinnamon swirl with nuts and raisins. You can also add your favorite top-ups.
Honey Bun Cheesecake offers the perfect blend of two classic desserts in one irresistible treat. It is an irresistible delight with a golden graham cracker crust and a creamy cheesecake filling. The swirl of taste with sweet cinnamon goodness and a delectable glaze on top is a dessert sure to please everyone at your table. So, indulge in the sweet fusion of these two classics with your homemade Honey Bun Cheesecake.
Read About Cookie Monster Cinnamon Rolls

here