Indulge in Cookie Monster Cinnamon Rolls – a sweet twist on a classic treat. Get ready for gooey, cinnamon-infused deliciousness!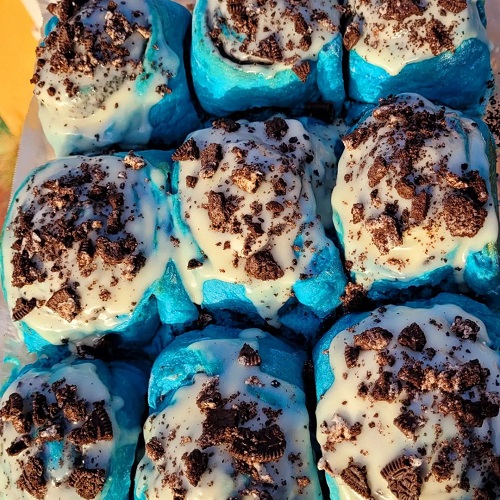 Cookie Monster Cinnamon Rolls are a delightful and whimsical take on the beloved classic. These cinnamon rolls, inspired by the lovable Sesame Street character Cookie Monster, are not only delicious but also a fun treat for kids and adults alike. Their vibrant blue icing and a surprise cookie bring joy to any breakfast or snack time.
---
Origin of Cookie Monster Cinnamon Rolls
Cookie Monster Cinnamon Rolls draw inspiration from the iconic Sesame Street character known for his insatiable love of cookies. These rolls playfully incorporate cookies into the classic cinnamon roll recipe, creating a whimsical and delicious twist. The blue icing mimics Cookie Monster's fur, making them a delightful treat for kids' parties, themed events, or just when you want to add a touch of fun to your morning. While the exact origin is unclear, these rolls have become a favorite among those who appreciate the combination of nostalgia and sweetness.
Try Out Triple Delight Chinese Food

here
---
Cookie Monster Cinnamon Rolls Recipe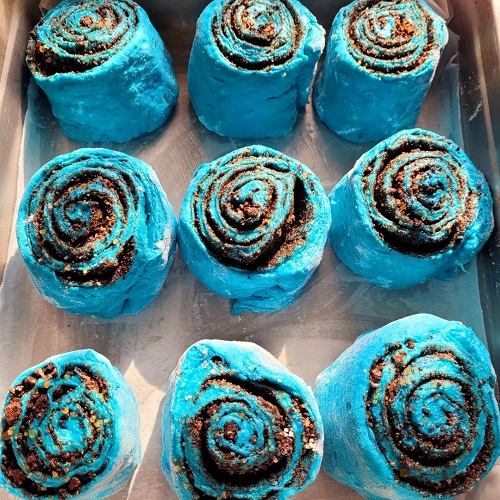 Ingredients
For the Cinnamon Rolls:
1 pound (about 4 cups) of pizza dough, homemade or store-bought
1/4 cup unsalted butter, melted
1/2 cup granulated sugar
2 tablespoons ground cinnamon
For the Cookie Filling:
12 small chocolate chip cookies
For the Blue Icing:
2 cups powdered sugar
1/4 cup milk
1 teaspoon vanilla extract
Blue food coloring
Roll Out the Dough
Roll out your pizza dough into a large rectangle, about 1/4 inch thick.
Add the Cinnamon Sugar
Brush the melted butter evenly over the dough. Mix the granulated sugar and ground cinnamon. Then sprinkle this mixture over the buttered dough.
Add the Cookies
Place your small chocolate chip cookies evenly over the dough. Roll up the dough tightly, starting from one long edge.
Slice and Bake
Slice the rolled dough into 12 even pieces. Place these slices in a greased baking dish. Bake in a preheated oven at 190°C for 18-20 minutes or until golden brown.
Decorate with Blue Icing
While the rolls are cooling slightly, prepare the blue icing. Mix powdered sugar, milk, vanilla extract, and blue food coloring. Drizzle the blue icing over the warm rolls.
Try Out Strawberry Cheesecake Cookies Recipe

here
---
Things to Remember While Preparing Cookie Monster Cinnamon Rolls
When adding cookies, space them evenly to ensure each roll gets a cookie surprise.
If the icing is too thick, add more milk. If it's too thin, add more powdered sugar until you achieve the desired consistency.
Get creative with your icing by adding cookie "googly eyes." You can also add a mouth to mimic Cookie Monster's iconic look.
If using homemade dough, ensure it's at room temperature for easier rolling.
These rolls are best enjoyed fresh and warm.
Try Out the Spicy Enoki Mushroom Recipe

here
---
Frequently Asked Questions
1: Can I use other types of cookies?
Absolutely! You can experiment with cookies like Oreos or peanut butter for unique flavors.
2: Can I make these rolls in advance?
While they're best enjoyed fresh, prepare them beforehand. All you need to do is warm them in the oven before serving.
3: Can I use store-bought icing?
Yes, store-bought blue icing can be used conveniently, but homemade icing allows for customization.
4: How do I store leftover rolls?
Store them in an airtight container at room temperature for up to two days.
5: Can I freeze these rolls?
Yes, you can freeze them before adding icing. Thaw and add icing before serving.
Cookie Monster Cinnamon Rolls are a delightful fusion of childhood nostalgia and delicious sweetness. So, if you want to add a whimsy to your breakfast, these rolls are a treat for all ages. Moreover, roll out the dough, add the cookies, and enjoy the magical combination.
Read About Joe Isidori's Meatball Recipe

here.