Discover a tasty Chicken Chesapeake Recipe: savory chicken topped with creamy crab and rich sauce. Try it today!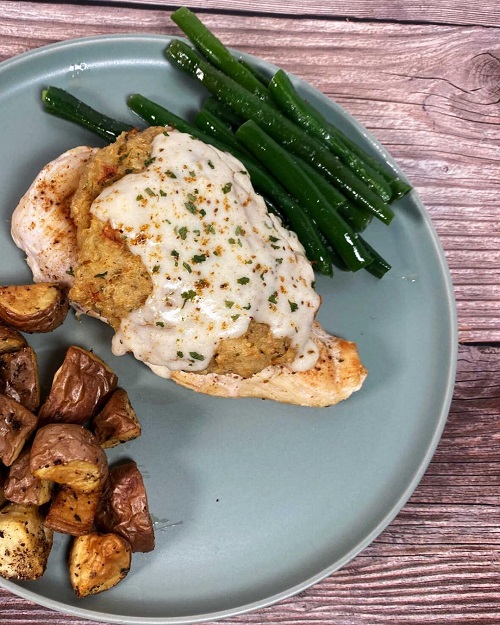 This delectable dish is a popular favorite among seafood lovers and makes for an indulgent dinner option. It combines the succulence of tender chicken with the richness of crabmeat and a delightful creamy sauce. Let's explore the origins of this recipe and try this step-by-step preparation method for a perfect Chicken Chesapeake Recipe.
---
Origin of the Chicken Chesapeake Recipe
This dish can be traced to the Chesapeake Bay region on the East Coast of the United States, known for its abundant seafood harvests. The dish draws inspiration from the rich maritime culture of this area, where crab and other shellfish are celebrated culinary treasures. By combining the land and sea, Chicken Chesapeake Recipe was born as a savory fusion of flavors. It's a delightful testament to the ingenuity of regional American cuisine, bringing together the heartiness of chicken with the delicate sweetness of crab meat.
Read About Classic Old Overholt Cocktail Recipes

here
---
Chicken Chesapeake Recipe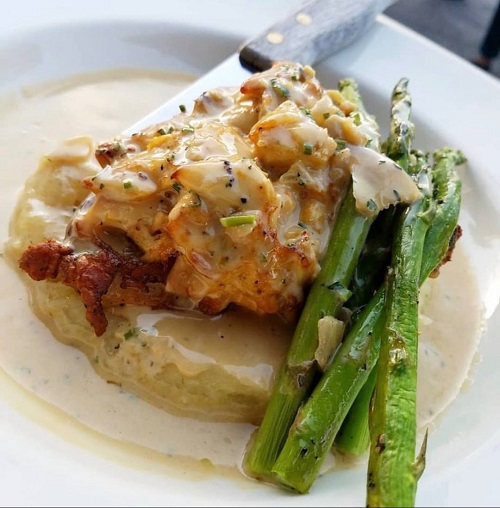 Ingredients
4 boneless, skinless chicken breasts
1 cup lump crabmeat, picked over for shells
3/4 cup heavy cream
1/2 cup chicken broth
1/4 cup white wine (optional)
4 tablespoons unsalted butter
2 cloves garlic, minced
1/2 cup grated Parmesan cheese
1/4 cup chopped fresh parsley
Salt and black pepper, to taste
Paprika, for garnish (optional)
Lemon wedges for serving
Preheat and Season
Preheat your oven to 190°C. Season the chicken breasts with salt, black pepper, and a sprinkle of paprika if desired.
Sear the Chicken
In an ovenproof skillet, melt 2 tablespoons of butter over medium-high heat. Add the seasoned chicken breasts. Sear them until they turn golden brown, about 3-4 minutes per side. Remove the chicken from the skillet and set it aside.
Prepare the Sauce
In the same skillet, add the remaining 2 tablespoons of butter and minced garlic. Sauté the garlic until fragrant, about 30 seconds. Pour in the white wine and let it simmer for a minute. Add the heavy cream, chicken broth, and grated Parmesan cheese. Stir until the sauce thickens, which should take 2-3 minutes.
Combine with Crabmeat
Gently fold the lump crabmeat into the creamy sauce. Be careful not to break up the crabmeat too much.
Bake
Return the seared chicken breasts to the skillet. Spoon some of the sauce and crab mixture over the top. Transfer the skillet to the preheated oven and bake for 20-25 minutes. Check until the chicken reaches an internal temperature of 74°C.
Check Out Creamy Italian Hangover Cake

here
---
Things to Remember While Preparing Chicken Chesapeake Recipe
If your chicken breasts are thick, consider butterflying them to ensure even cooking.
Use high-quality lump crabmeat for the best flavor and texture.
Avoid overcooking the chicken. This is because the chicken can become dry. Use a meat thermometer to check doneness.
Garnish your Chicken Chesapeake with chopped parsley. Add a squeeze of lemon for a fresh burst of flavor.
Serve this dish with your choice of sides. You can add roasted vegetables, rice, or a crisp salad.
Chicken Chesapeake Recipe is a yummy dish that beautifully combines the flavors of land and sea. Whether you're celebrating a special occasion or simply craving a gourmet meal, Chicken Chesapeake will satisfy your culinary desires.
Check Out Cookie Monster Cinnamon Rolls

here
---
Frequently Asked Questions
Can I substitute the heavy cream with a lighter option?
Yes, you can use half-and-half or whole milk. But the sauce may not be as rich.
What wine pairs well with Chicken Chesapeake?
A crisp white wine like Chardonnay or Sauvignon Blanc complements the flavors nicely.
Can I use imitation crabmeat?
While it's possible, real lump crabmeat provides the best taste and texture.
Is this dish spicy?
Not inherently, but you can add a pinch of cayenne pepper if you prefer some heat.
Can I prepare this dish in advance?
You can prepare the sauce and prepare the chicken beforehand. Then assemble and bake when ready to serve.
Check Out Tex Mex Paste Recipe

here