Enjoy Buffalo Wild Wings Potato Wedges: Crispy, golden bites of deliciousness. Perfect for sharing or savoring on your own.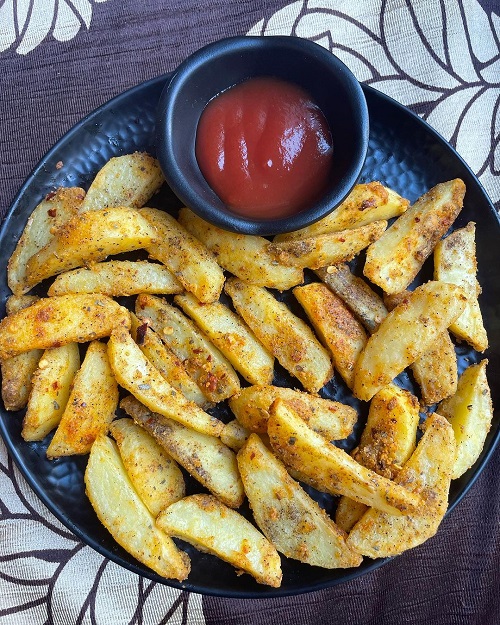 Buffalo Wild Wings Potato Wedges are thick-cut, golden-brown potato wedges. These are a perfect companion to your favorite wing flavors. Whether enjoying them as an appetizer or pairing them with your burger, these are a delightful treat.
---
Origin of Buffalo Wild Wings Potato Wedges Recipe
These delicacies were introduced as a side dish to complement the chicken wings. These wedges quickly gained popularity for their generous portions, crispy exteriors, and fluffy interiors. Today, Buffalo Wild Wings Potato Wedges offers a satisfying side dish that pairs perfectly with dipping sauces.
Read About the Spicy Enoki Mushroom Recipe

here
---
Buffalo Wild Wings Potato Wedges Recipe
Buffalo Wild Wings Potato Wedges
Ingredients
4 large russet potatoes
2 tablespoons of olive oil
1/2 teaspoon of garlic powder
Onion powder
1/2 teaspoon of paprika
Salt to taste
1/2 teaspoon of black pepper
Cooking spray
Prep the Potatoes
Wash and scrub the russet potatoes thoroughly. You can leave the skin on for added texture and flavor.
Cut into Wedges
Cut each potato into wedges by slicing it in half lengthwise. Then, cut each half into 3-4 wedges, depending on the size of the potato.
Season the Wedges
In a large bowl, toss the potato wedges with olive oil, garlic powder, onion powder, paprika, salt, and black pepper. Ensure the wedges are evenly coated.
Arrange on a Baking Sheet
Preheat your oven to 220°C. Place the seasoned potato wedges on a baking sheet lined with parchment paper or foil, ensuring they are in a single layer. Lightly coat them with cooking spray for extra crispiness.
Bake to Perfection
Bake the potato wedges in the oven for 30-35 minutes. Wait until golden brown and crispy, turning them over halfway through to ensure even cooking.
Read Triple Delight Chinese Food Recipe

here
---
Things to Remember
Cutting the potato wedges into uniform sizes ensures they cook evenly.
Don't overcrowd the baking sheet. Leave some space between the wedges to allow for proper browning.
Turning the wedges over halfway through baking helps for crispiness on all sides.
Feel free to adjust the seasoning to your taste. Add cayenne pepper for some heat or herbs like rosemary for extra flavor.
Potato wedges are best enjoyed immediately after baking while hot and crisp.
Buffalo Wild Wings Potato Wedges bring a satisfying crunch and flavor to your dining experience. These hearty, golden-brown wedges are easy to make at home. It offers a versatile side that complements dishes. So, prepare your potatoes and indulge in the savory satisfaction of homemade Potato Wedges.
Read Arby's Bronco Berry Sauce Recipe

here
---
Frequently Asked Questions
1: Can I use other types of potatoes?
While russet potatoes are traditional, you can use Yukon Gold or red potatoes for a slightly different texture and flavor.
2: What are the best dipping sauces for potato wedges?
Popular choices include ketchup, ranch dressing, barbecue sauce, and sour cream with chives.
3: Can I make these potato wedges in an air fryer?
Absolutely! Air frying can give you an even crispier result. Preheat the air fryer to 190°. Then, cook for about 20-25 minutes, shaking the basket halfway through.
4: How do I reheat leftover potato wedges?
To reheat, place them on a baking sheet in a preheated oven at 175°C. Then, keep them for about 10 minutes or until heated.
5: Can I prepare the wedges in advance?
While they're best fresh, you can partially prepare them by cutting and seasoning the wedges. Store them in the refrigerator and bake when ready.
Try Out Tasty Bronco Berry Sauce

here.