Elevate your breakfast game with Anabolic French Toast. Discover a high-protein twist on a classic favorite. Easy recipe for a healthier start to your day!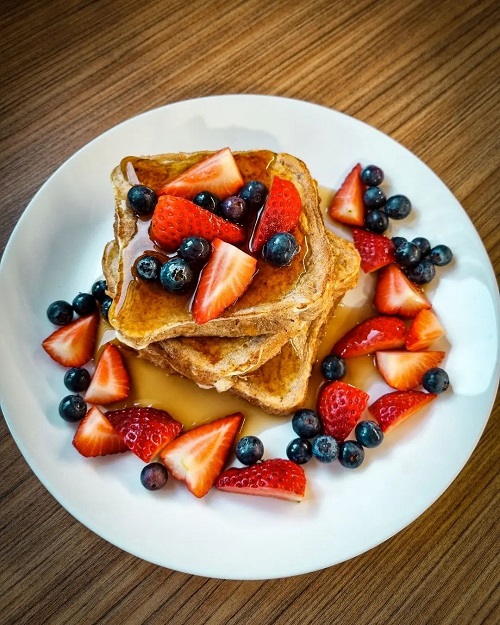 If you're on a fitness journey and looking for a delicious yet nutritious breakfast option, Anabolic French Toast might become your new favorite morning meal. Originating from the fitness and bodybuilding community, this recipe provides a high-protein, low-fat alternative to traditional French toast while retaining all the flavor you crave.
---
Origin of the Anabolic French Toast
Anabolic French Toast has gained immense popularity among fitness enthusiasts and bodybuilders due to its nutritional profile. It's designed to be high in protein and low in fat, making it an excellent choice for those looking to fuel their workouts and support muscle recovery. This recipe's origin lies in the desire to create a meal that combines the comfort and taste of classic French toast with the dietary requirements of a high-protein diet.
Check Out the Chicken Chesapeake Recipe here
---
Anabolic French Toast Recipe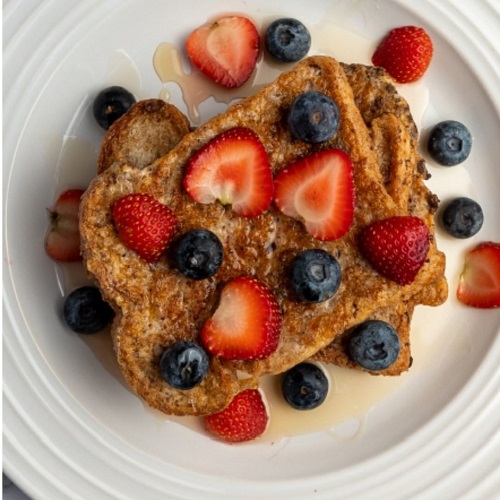 Ingredients
For the French Toast:
4 slices of whole-grain bread (or your preferred type).
3 large eggs.
1 scoop of your favorite protein powder (vanilla or cinnamon works well).
1/2 cup of unsweetened almond milk (or any milk of your choice).
1 teaspoon of ground cinnamon.
1/2 teaspoon of vanilla extract.
Cooking spray or a small amount of oil for the pan.
For Toppings
Fresh berries (strawberries, blueberries, raspberries).
Greek yogurt (plain or flavored).
A drizzle of sugar-free maple syrup
Prepare the Batter
In a mixing bowl, combine the eggs, protein powder, and almond milk. Then, add ground cinnamon and vanilla extract. Whisk the mixture until it's smooth and well combined. This forms the batter for your French toast.
Preheat the Griddle or Pan
Preheat a griddle or a non-stick pan over medium-high heat. Lightly grease the griddle or pan with cooking spray or a small amount of oil.
Dip and Cook the Bread
Dip each slice of bread into the prepared batter, ensuring both sides are coated. Place the coated bread slices on the preheated griddle or pan.
Cook Until Golden Brown
Cook each side of the bread for about 2-3 minutes. Check until they turn golden brown and slightly crispy.
Serve and Enjoy
Once cooked, remove the French toast slices from the griddle. Top them with a dollop of Greek yogurt and fresh berries. Drizzle with sugar-free maple syrup for extra flavor.
Check Out the Maple Nut Goodies Recipe

here
---
Things to Remember
Select a protein powder flavor that complements your taste preferences. It will significantly impact the taste of your French toast.
Opt for whole-grain or whole-wheat bread. This will increase the fiber content and make it a more nutritious choice.
Ensure that both sides of each bread slice are evenly coated with the batter for consistent flavor.
The protein content of this recipe comes mainly from eggs and protein powder. This will make it a source of muscle-building nutrients.
Feel free to customize your toppings with your favorite fruits or ingredients. This is like nuts or a sprinkle of cocoa powder.
Check Out the Walk Me Down Drink Recipe

here
---
Frequently Asked Questions
1: Can I use a different type of milk?
Yes, you can use any milk you prefer, such as skim milk, soy milk, or oat milk.
2: Is there a specific protein powder I should use?
Use a protein powder that you enjoy the taste of; typically, vanilla or cinnamon-flavored powders work well.
3: Can I make this recipe without protein powder?
While the protein powder adds extra protein, you can make Anabolic French Toast without it. Just adjust the milk quantity accordingly.
4: How do I know when the French toast is cooked?
The French toast is ready with golden brown on both sides and slightly crispy.
5: Can I prepare the batter the night before?
It's best to prepare the batter fresh, but you can mix the dry ingredients in advance.
Anabolic French Toast offers a fantastic combination of flavor and nutrition. It makes the dish an ideal choice for those seeking a protein-rich breakfast. So, rise and shine to a power-packed breakfast that fuels your day with energy and taste!
Check Out Buffalo Wild Wings Potato Wedges

here