This chocolate cake is delicious, filled with coconut caramel and cream cheese, you'll going to love it. Check out the recipe!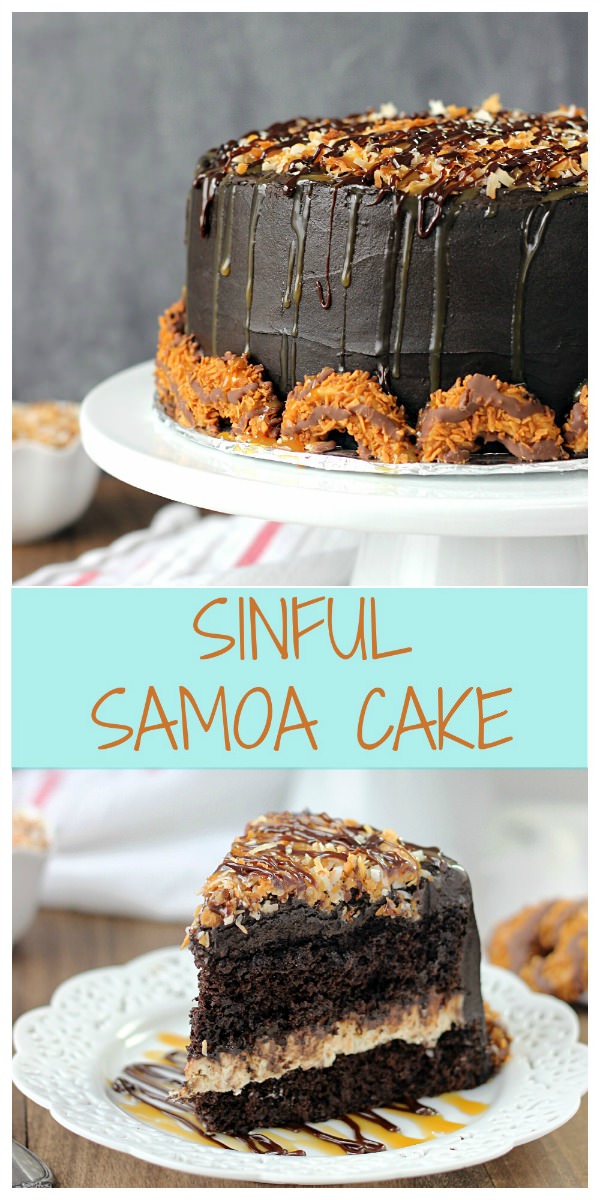 This Sinful Samoa Cake could not be any more decadent. You start with a basic chocolate cake, then layer in coconut caramel cream cheese. The cake is frosted with a delicious, fudgy dark chocolate buttercream. There is no better way to top this cake than with a pile of toasted coconut slathered in more chocolate and caramel.
This cake is for serious Samoa lovers only.
Serves: 8-10 servings
Prep Time: 2 hours 30 mins
Cook Time: 25 mins
Total Time: 2 hours 55 mins
Ingredients
1 box Betty Crocker Chocolate Fudge Cake Mix
¼ C Hershey's Special Dark Cocoa Powder
¾ C Vegetable oil
3 Large eggs
1 C Light sour cream
2 tsp Vanilla extract
For the filling
2 pk Cream cheese, softened
¼ C Caramel sauce
2 tbsp Heavy whipping cream
¾ C Toasted Coconut
For the frosting
1 C (2 sticks) Unsalted butter, softened
½ C Hershey's Special Dark Cocoa Powder
3 C Powdered sugar
2 tbsp Heavy cream
1 tsp Vanilla extract
For the topping
1 C Toasted coconut
Caramel sauce
Hot fudge sauce
Samoa Cookies