Check out this easy, no-bake Rice Krispie Treat Cheesecake recipe and prepare to find yourself in food mashup heaven.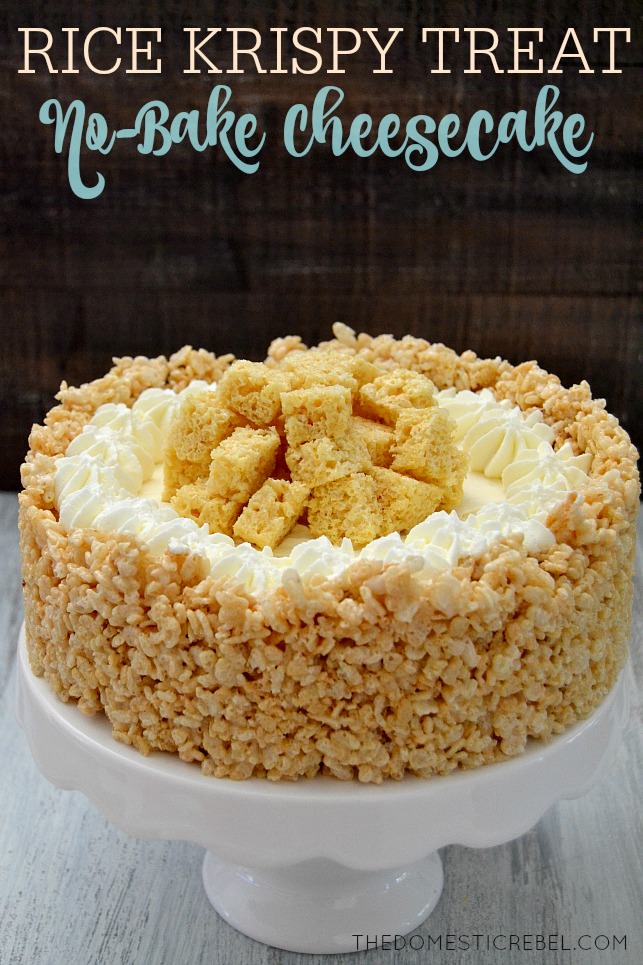 Fluffy, light, airy, marshmallowy goodness that sits inside of a giant, gooey, crispy RKT crust, this cheesecake is sure to fill your mouth with water.
A tip: Real whipped cream isn't as stable as Cool Whip is, and your cheesecake won't stay as high, fluffy and airy with anything other than Cool Whip. So please, use real Cool Whip.
Recipe type: No Bake
Prep time: 2 hours 30 mins
Total time: 2 hours 30 mins
Serves: 8-10
This No-Bake Rice Krispy Treat Cheesecake is phenomenal. Light, fluffy and packed with flavor, it's perfect for any and every die-hard RKT fan.
Ingredients
For Crust:
6 cups Rice Krispies cereal
¼ cup salted butter
1 pkg miniature marshmallows
For Filling:
1 (8 oz) pkg cream cheese, softened
½ cup sugar
1 tsp vanilla extract
1 (7 oz) jar marshmallow creme/fluff
1 (8 oz) pkg Cool Whip, thawed
For Garnish:
Whipped cream
Cubed & prepared Rice Krispy Treat Squares