This Peanut butter snowball is a no-bake recipe for holidays, the mouthwatering chocolate coating and slimy-smooth flavor of peanut butter inside makes it so special!
With just a few ingredients you prepare and enjoy this recipe pack it up nicely for an exchange or gift. It's great!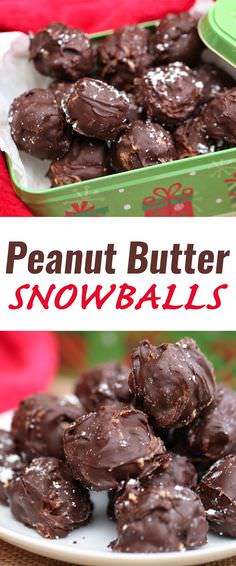 This recipe is versatile too, you can choose your preference for chocolate coating!
When making Peanut Butter Snowballs, the peanut butter mixture can potentially get warm and thus hard to work with when making the snowballs and rolling them into the melted chocolate. In that case, utilize the fridge to firm them up so you can work with it easier.
Ingredients
3/4 cup Kraft Smooth Peanut Butter
3 Tbsp. Butter, Softened
1 cup Icing Sugar
1/2 cup Honey Maid Graham Crumbs
1 pkg. (225 g) Baker's Semi-Sweet Chocolate, Melted