Creamy, rich and easy 6-ingredient no churn ice cream is swirled with salted caramel, Oreo chunks, and salted caramel almonds. Best yet? No ice cream maker required!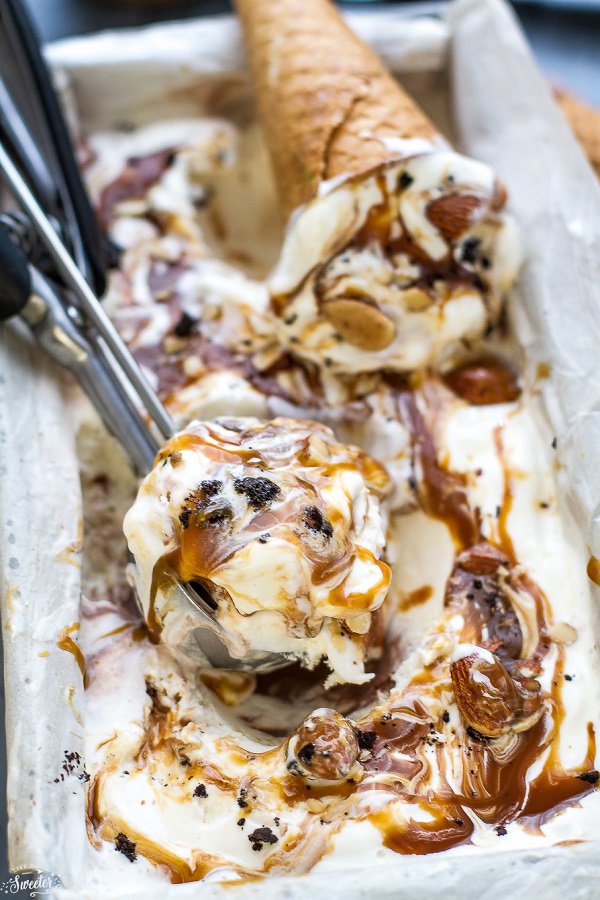 Yup, out of all the flavors and topping choices he could have chosen, he went with a simple and plain no-topping cone.
The salted caramel almonds are coated with a sweet and salty flavor and added the perfect crunch to my latest no churn ice cream.
The combination of salty and sweet with the creamy, chocolatey Oreo cookies was a match made in heaven and seriously the best ice cream ever!
Ingredients
2 cups heavy whipping cream (can also sub one 16 ounce container of Cool Whip)*
1 teaspoon vanilla extract
1 (14oz) can of sweetened condensed milk
1/3 – 1/2 cup store bought or homemade salted caramel sauce (to taste)
1/2 cup coarsely chopped Oreos or any chocolate sandwich cookies, divided for topping
1/2 cup Blue Diamond Salted Caramel Almonds, (or your favorite almonds) coarsely chopped, divided for topping