The original "no flour, no oil, no white sugar" chickpea cookie recipe. These cookie dough bites are gluten-free + vegan, and full of peanut butter goodness.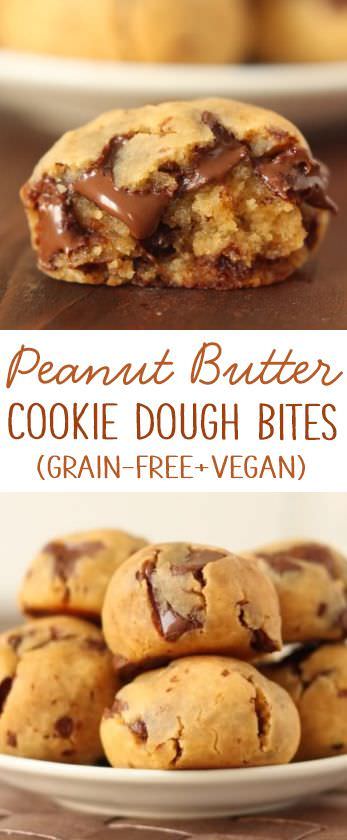 Chickpea cookies with no flour, no oil, no white sugar. These are just full of chickpeas, they're very healthy and delicious.
And as a bonus, they're grain-free, gluten-free, dairy-free and vegan. And if you're worried about the chickpeas, don't be. These are so delicious that you wont be able to stop eating these.
These need the chocolate. Don't go making them without the chocolate because these wont be sweet or gooey enough. These would be incredibly boring without the chocolate. And for some weird reason, these cookie dough bites do not taste yummy in dough form. Baking them somehow brings out the sweetness and peanut butter flavor. Or maybe it's just all that melted chocolate.
These aren't the most beautiful cookie dough bites, but fresh out of the oven, with all that gooey chocolate, you can't tell that these are made with chickpeas. Or are grain-free.
Yield: 14 1″ cookies
Prep Time: 8 min
Cook Time: 10 min
Ingredients
1 1/4 cups canned chickpeas, well-rinsed and patted dry with a paper towel1
2 teaspoons vanilla extract
1/2 cup + 2 tablespoons (165 grams) natural peanut butter, SunButter Natural or almond butter – room temperature2
1/4 cup (80 grams) honey (commenters have used agave and maple syrup with success!)
1 teaspoon baking powder3
a pinch of salt if your peanut butter doesn't have salt in it
1/2 cup (90 grams) chocolate chips (use vegan and dairy-free chocolate chips, if needed)