Chewy gingerbread cookie cups that are filled with a fluffy eggnog cheesecake. Without a doubt, this eggnog cheesecake cookie recipe is best for holidays!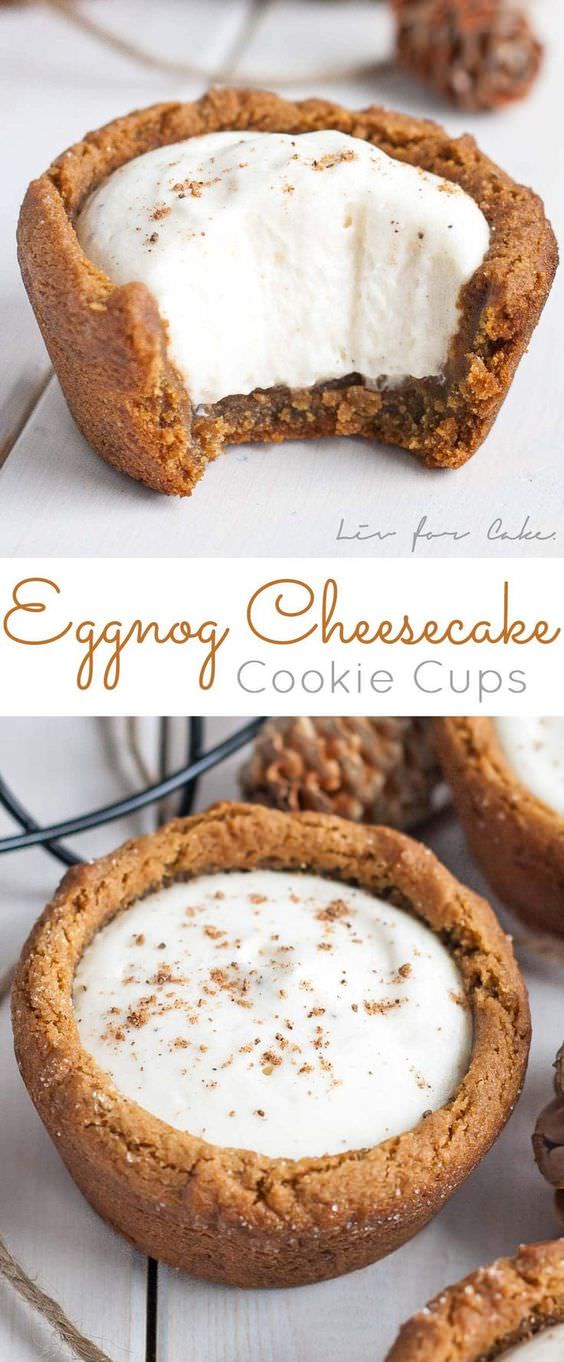 These Eggnog Cheesecake Cookie Cups are amazing. Amazing!! You need to try them. Plus they are pretty easy to make, which scores them extra points in my opinion.
Also? You can freeze these little guys, so you can make them earlier in the season and then just bust them out whenever you need them.
The perfect holiday treat!
The base for these Eggnog Cheesecake Cookie Cups is the Snow Capped Gingersnaps.
As such, the cookie cups will be on the chewier side rather than crispy.
The filling is an eggnog cheesecake, lightened up with some whipped cream.
Serves: 17 Cookies Cup
Prep Time: 2h, 30
Cook Time: 10 min
Total Time: 2h, 40
Ingredients
Gingerbread Cookie Cups:
3/4 cup unsalted butter (room temperature)
1 cup light brown sugar (packed)
1/4 cup molasses
1 egg
2 1/4 cups all-purpose flour
2 tsp baking soda
1 tsp cinnamon
1 tsp ginger
1/2 tsp cloves
1/4 tsp salt
Eggnog Cheesecake Filling:
1 cup heavy whipping cream (cold)
8 oz cream cheese (softened)
1/2 cup granulated sugar
1/4 cup eggnog
1/4 tsp nutmeg
pinch cinnamon