Chocolate Peanut Butter Caramel Mousse Pie made with an Oreo crust, chocolate caramel mousse filling, and peanut butter whipped cream to top. Decadent!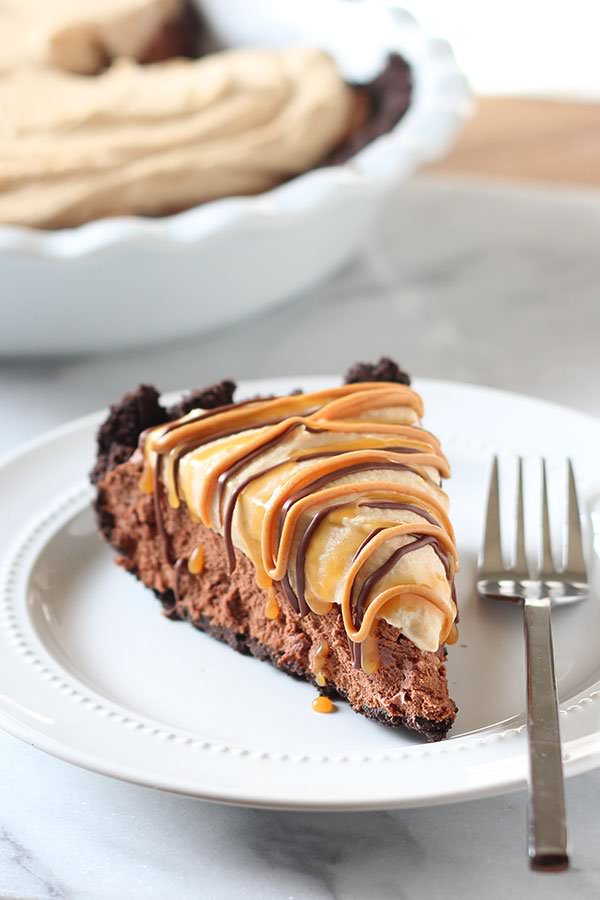 This Chocolate Peanut Butter Caramel Mousse Pie is so incredibly delicious that you will get addicted to it in just a sec. It's amazing and you have to make it.
Recipe Rundown
Taste: Like everything that is good in the world wrapped up into one sinful bite.
Texture: Somehow both light and airy yet rich and creamy.
Ease: Surprisingly easy, just make sure you have an electric mixer to make easy work of all that whipping!
Appearance: Gorgeous, especially if you take the extra time to do the drizzly magic on top.
Pros: The pie of your dreams!
Cons: None.
Yield: 1 9-inch pie
Prep Time: 25 minutes
Cook: 10 minutes
Ingredients
For the crust:
20 Oreo cookies (regular-stuffed, filling intact)
3 tablespoons unsalted butter, melted
For the filling:
8 ounces semisweet chocolate, chopped
1 cup heavy cream
1/2 cup salted caramel sauce, store-bought or homemade
For the peanut butter whipped cream:
1 1/2 cups heavy cream
1/2 cup smooth peanut butter
2 tablespoons confectioners' sugar
1 teaspoon vanilla extract
Additional caramel sauce, for drizzling
Additional peanut butter, melted, for drizzling
Additional semisweet chocolate, melted, for drizzling